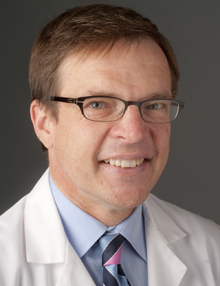 Martin G. Sanda, MD, an internationally recognized prostate cancer surgeon and scientist, has been appointed chair of the Department of Urology at Emory University School of Medicine and service chief for Emory Healthcare. He also will serve as director of the Prostate Cancer Center, which will be established within Emory's Winship Cancer Institute.
Sanda joins Emory from Harvard Medical School, where he is professor of surgery in urology, and from Beth Israel Deaconess Medical Center, where he currently serves as director of the Prostate Cancer Center. He is also co-leader of the Prostate Cancer Program at the Dana Farber Cancer Center. He will begin at Emory on Feb. 28, 2013. 
"I am delighted to announce Dr. Sanda's appointment as chairman of the Department of Urology," says Thomas Lawley, MD, dean of the Emory University School of Medicine. "Dr. Sanda brings a strong combination of clinical expertise and ground-breaking research to this position. His emphasis on collaboration in service to our patients is outstanding. He will contribute greatly to Emory's already strong position within the field of urology."   
Sanda is principal investigator of three multi-center consortium studies funded by the National Cancer Institute and the Prostate Cancer Foundation that seek to develop urine tests for detecting prostate cancer; to develop benchmarks for improving quality of life among cancer survivors; and to develop innovative prostate cancer vaccines. These studies have enrolled over 4,400 patients with findings published in leading medical journals including the Journal of the American Medical Association and the New England Journal of Medicine.
"Dr. Sanda brings a wealth of experience, energy and vision to his new role as Chair of Urology," says Wright Caughman, MD, executive vice president for health affairs for Emory University and CEO of the Robert W. Woodruff Health Sciences Center. "He has a proven track record of research excellence, patient-centered care, and he is accomplished in bringing people and disciplines together."
"It is a privilege for me to join the exceptional team that is in place within Emory's Urology Department," says Sanda.  "The leadership of Emory School of Medicine, Emory Healthcare and the Winship Cancer Institute have committed substantial resources that will make it possible for us to enhance and expand Emory Urology together through interdisciplinary collaboration. 
"In addition," says Sanda, "I am deeply humbled and honored to follow in the footsteps of Dr. Fray Marshall, the inaugural Urology Department Chairman. I had the extraordinary opportunity to train under Dr. Marshall at Johns Hopkins and know the impact of his outstanding leadership in clinical care, research and education."
Sanda's clinical practice, which includes robotic prostatectomy and robotic cystectomy, is focused on developing new surgical and non-surgical approaches to cancer care and to improving the quality of life among cancer survivors.
"Dr. Sanda embodies our combined missions of patient care, research and education," says John Fox, president and CEO of Emory Healthcare. "His research focus on enhancing prostate cancer survival through advances in cancer detection, treatment and outcomes coincides with his commitment to advancing urological and prostate cancer care while training the next generation of urologist leaders and innovators."  
After receiving his BA in molecular biophysics and biochemistry from Yale University cum laude in 1983, Sanda went on to receive his MD degree at Columbia University in 1987. He then trained as a general surgery resident at the Medical College of Virginia and as a surgical oncology fellow at the National Cancer Institute. He completed his urology residency at Johns Hopkins Hospital. 
"Dr. Sanda will elevate multi-disciplinary prostate cancer care and research within the Winship Cancer Institute to a new level," says Walter J. Curran, Jr., MD, executive director of Emory's Winship Cancer Institute. "In addition, he will enhance Winship's role in advancing prostate cancer research on an international level."
Sanda has served as chair of the Prostate and Genito-Urinary Collaborative Group of the National Cancer Institute's Early Detection Research Network (2007-2010), has spearheaded two nationwide, NCI Cooperative Group prostate cancer clinical trials, has served on numerous federal funding review panels, and has served on the Research Council of the American Urological Association since 2011. Sanda has more than 150 peer-reviewed publications, and his work has been cited more than 5,000 times in biomedical literature. 
---