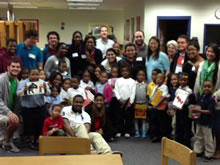 The Emory Department of Pediatrics Urban Health Program got a boost of support from a group of big kids to help further its mission about the importance of early childhood literacy.
This week, sophomore students from North Carolina's Elon University participated in a "Big Kid" reading event at various locations in Atlanta including M. Agnes Jones and Frank Lebby Stanton Elementary Schools.  The event is part of Reach Out and Read, a national early literacy program in which pediatricians distribute age appropriate books at well-child visits to encourage the value of reading. 
The students from Elon University are recipients of the Watson-Odyssey Scholarship, which requires a community service project focusing on youth and literacy. Many represent first generation college students for their families and embody the famous quote by Dr. Seuss, "The more that you read, the more things you will know. The more that you learn, the more places you'll go."
"Education is a direct predictor of health," says Veda Johnson, MD, executive director of Emory's Urban Health Program.  "Education begins with laying a foundation for learning through the advancement of early childhood literacy. We cannot over emphasize the importance of reading aloud to our children and what that means for their academic success.  We live in a time when fewer than half of parents in the United States read to their young children daily."
Minority and low-income children are less likely to be read to every day than their non-minority and higher income peers because parents often lack resources to buy new books or have access to libraries. As a result many children from low-income families enter kindergarten with a listening vocabulary of 3,000 words, while children of middle/upper-income families enter school with a listening vocabulary of 20,000 words. Experts say proficiency in reading by the end of third grade is a crucial marker in a child's educational development. Reach Out and Read is an evidence-based early literacy and school readiness intervention.
"Reading aloud not only stimulates language development - it also builds motivation, curiosity and memory cognition. We want to nurture a nation of readers," says Johnson. "Our goal is to cultivate an environment of reading by giving every child between the ages of six months and five years in our primary care clinic a new, developmentally-appropriate children's book to take home and keep." 
Reach Out and Read began more than two decades ago in Boston as a simple solution to an obvious problem - waiting rooms without books. Reading aloud was important for young children, and pediatricians had a special opportunity to reach their parents during wellness visits. Most children see their pediatrician at least 10 times between the ages of 6 months to five years of age.
Each year, medical providers at the nearly 5,000 Reach Out and Read program sites nationwide distribute 6.5 million books to children and provide invaluable literacy advice to parents.
About the Urban Health Program
The Urban Health Program of the Department of Pediatrics in Emory University School of Medicine aims to eliminate health disparities ensuring that all Georgia children are happy, healthy and productive members of society. It enhances the health and well-being of Georgia's underserved children by:
Expanding the number of School-Based Health Clinics in the State of Georgia.
Creating a family-centered model for comprehensive primary care Services for urban children.
Developing innovative programs that link healthcare, education and community services.
Training future pediatricians to provide medical care that addresses the social determinants of health.
---