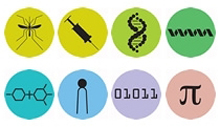 A unique malaria systems biology website launched this week will inform the public, scientists, teachers, students and journalists about malaria research and will create new collaborative opportunities for researchers worldwide.
The website features the Malaria Host-Pathogen Interaction Center (MaHPIC), a new malaria consortium supported by the National Institute of Allergy and Infectious Diseases (NIAID), part of the National Institutes of Health.
The MaHPIC is led by Emory University and includes research partners at the University of Georgia, the Georgia Institute of Technology and the Centers for Disease Control and Prevention. The Yerkes National Primate Research Center of Emory is administering the consortium's contract of up to $19.4 million over a five-year period, if all options are exercised.  
"We're very excited about this new website, and we believe it will provide important insights to many about the complexity of malaria infections around the world and the research challenges faced by scientists aiming to make a malaria vaccine, new drugs and diagnostics," says Mary Galinski, principal investigator and program director of the MaHPIC.
The new MaHPIC website includes:
Information about systems biology approaches, which is the overarching scientific theme guiding the consortium
Scientific cores: malaria, immune profiling, functional genomics, proteomics, metabolomics, lipidomics, informatics, and mathematical modeling and computational analysis. These cores work together and each is critical to the successful implementation of the MaHPIC.
Model systems used by the MaHIC team to study malaria
Investigators, staff, and students involved, as well as members of the team's global Scientific Consulting Group
Contact information
Development of the website was led by Gregg Orloff, director of CancerQuest, a cancer education and outreach project based at the Winship Cancer Institute of Emory University. "Winship and the MaHPIC share the goal of educating the public about research on devastating diseases, and it has been a rewarding experience working with the MaHPIC investigators on this new cutting-edge scientific project," says Orloff.
---