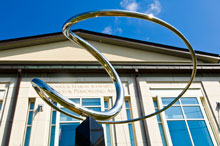 Emory Photo/Video.
The 10th anniversary of the Donna and Marvin Schwartz Center for Performing Arts is celebrated with these signature events throughout February:  
• Feb. 2: Virtuoso pianist Yefim Bronfman performs, followed by a champagne reception.
• Feb. 8–9: Emory Annual Jazz Fest and Big Band Night: Victor Goines, saxophone, and the Gary Motley Trio.
• Feb. 15: "Watching Chekhov Watching," a performance of original adaptions of Anton Chekhov's short stories with an audience talkback.
• Feb. 22: Violinist and composer Daniel Bernard Roumain comes to Emory for residency activities and a concert.
• Feb. 28: Contemporary dance artist Monica Bill Barnes performs with an audience talkback.
For more information: arts.emory.edu/anniversary.
---