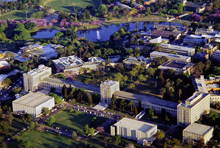 Emory University has partnered with leading Australian university research commercialization company UniQuest to create a new start-up company focused on cancer research from the Emory Institute for Drug Development and the University of Queensland (UQ).
QUE Oncology will license intellectual property originating from research discoveries at UQ and the medicinal chemistry group of Dennis Liotta, PhD, executive director of the Emory Institute for Drug Development.
The company is supported through GRA Venture Lab, the Georgia Research Alliance research commercialization program.
The start-up will seek venture capital to fund the development of small molecule drug candidates and biological targets for preventing and treating cancer. UniQuest and Emory will facilitate venture capital raising activities with seed funding support.
Liotta says QUE Oncology aligns with Emory University's strategic focus on positive transformation through shared opportunities with international colleagues.
"The research and development capabilities of all QUE Oncology's contributors will be significantly enhanced through our collaborative approach to discovery and technology transfer," says Liotta.
UniQuest Managing Director David Henderson said QUE Oncology was established to lead Australia's response to new market opportunities in the field of cancer therapy.
"The multi-billion dollar investment required to develop a new drug from discovery through to commercial launch, and an increasingly conservative global regulatory environment, have prompted Australian research teams to seek collaborators overseas for translating their ideas into clinical outcomes," Henderson explains. 
"Bringing together the expertise and discoveries of these leading innovation hubs creates an attractive prospect for global biotech investors and also for pharmaceutical companies, which are looking to outsource R&D for potential new drugs at an earlier stage more so than ever before."
Cancer research projects that have been identified to start the QUE Oncology pipeline relate to prostate cancer, breast cancer, multiple myeloma and melanoma, as well as pain and menopausal symptoms.
The start-up will operate with a small core team and leverage the resources and infrastructure of the partnering universities and contract research organizations, manufacturers and advisors. An experienced biotech start-up CEO, John Richard, has been recruited to manage the asset development program and business development activities.
In a related research collaboration, Emory University, the University of Queensland, and the Queensland Institute of Medical Research (QIMR), last week announced a 10-year agreement for a biomedical and development alliance aimed to accelerate the development of new drugs and vaccines for cancer and infectious diseases. The alliance is named the Queensland Emory Development Alliance (QED).
In case of future investment or a licensing agreement, Emory University would have an equity interest in QUE Oncology.
---