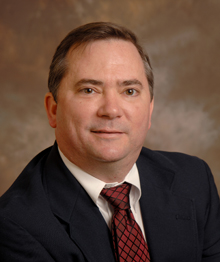 Larry Young, PhD, received the 2012 Daniel H. Efron Research Award from the American College of Neuropsychopharmacology (ACNP) at the organization's recent annual meeting in Hollywood, Fla. The ACNP, founded in 1961, is the nation's premier professional society in brain, behavior and psychopharmacology research. The organization presents this award, its highest honor, to an individual on the basis of outstanding basic research contributions to neuropsychopharmacology.
Young is division chief of Behavioral Neuroscience and Psychiatric Disorders at the Yerkes National Primate Research Center, director of the Center for Translational Social Neuroscience at Emory University and William P. Timmie Professor of Psychiatry at Emory's School of Medicine. He and his research team conduct research on the neurobiologial bases of various neural processes pertaining to social behavior and cognition. This connects to the field of neuropsychopharmacology, which involves the evaluation of the effects of natural and synthetic compounds upon the brain, mind and human behavior.
"This has been a tremendous fall for Dr. Young," says Stuart Zola, PhD, director of the Yerkes National Primate Research Center. "He published his first book just a couple of months ago, and now he is being recognized with a prestigious award. We are extremely proud of Dr. Young, his accomplishments and his leadership at our center."
Young is interested in understanding the neural circuitry and genetics underlying social information processing and the formation of social bonds. He is also interested in understanding the biological bases for behavioral diversity and how such behaviors may have evolved. His groundbreaking research has highlighted the roles of oxytocin and vasopressin in regulating social behavior.
Young's work has important implications for understanding psychiatric disorders that are characterized by disruption in social cognition, including autism spectrum disorder and schizophrenia. His lab is now using this basic understanding of social cognition to identify novel drugs to treat social deficits in psychiatric disorders.
For eight decades, the Yerkes National Primate Research Center, Emory University, has been dedicated to conducting essential basic science and translational research to advance scientific understanding and to improve the health and well-being of humans and nonhuman primates. Today, the center, as one of only eight National Institutes of Health–funded national primate research centers, provides leadership, training and resources to foster scientific creativity, collaboration and discoveries. Yerkes-based research is grounded in scientific integrity, expert knowledge, respect for colleagues, an open exchange of ideas and compassionate quality animal care.  
Within the fields of microbiology and immunology, neurologic diseases, neuropharmacology, behavioral, cognitive and developmental neuroscience, and psychiatric disorders, the center's research programs are seeking ways to: develop vaccines for infectious and noninfectious diseases; treat drug addiction; interpret brain activity through imaging; increase understanding of progressive illnesses such as Alzheimer's and Parkinson's diseases; unlock the secrets of memory; determine how the interaction between genetics and society shape who we are; and advance knowledge about the evolutionary links between biology and behavior. 
---