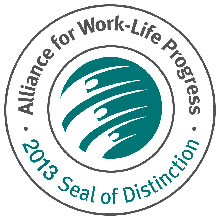 Emory continues to garner accolades for being a quality place to work.
The Alliance for Work-Life Progress has re-confirmed Emory University as a 2013 recipient of its "Work-Life Seal of Distinction."  This recognition is a marker for excellent industry leading work-life programs.
The award also commends Emory for providing a wide variety of workplace policies, programs and practices that support employees across all major aspects of work-life integration. The programs are led by Human Resources' John Kosky, director of work-life and compensation and Theresa Milazzo, associate vice president.
Emory's WorkLife Resource Center's programs that contributed to the award include:
Emory Child Care Network
Annual Summer Camp & Learning Expo
Annual Back to School campaign
Emory Employee Student Job Network
Caregiver workshop series
Back-Up Care Advantage Program
Workplace flexibility programs
Finance Matters workshop series
Emory University Hardship Fund
As a recipient of the award, Emory can use the Work-Life Seal of Distinction in all official communications.
"We are delighted that Emory has received this designation for a second year in a row," says Kosky. "Only a handful of organizations nationwide were recognized and they include some of the largest corporations. The designation is a true reflection of the quality of work-life programs that are available at Emory."
The Alliance for Work-Life Progress advances work-life as part of an integrated total rewards strategy by defining and acknowledging best practices and innovation, facilitating dialogue, and spotlighting work-life thought leadership.    
Fit-friendly workplace
Emory continues its winning streak having been recognized for the fourth year in a row by the American Heart Association as a Fit Friendly Company.
This is also Emory's third straight year as a Platinum Fit Friendly worksite, the highest level of the heart association's awards.
"To earn Fit Friendly designation from the American Heart Association, companies must demonstrate in multiple ways that they offer employees physical activity support, support access to healthy foods and beverages, and encourage employees to maintain a healthy diet, and promote a wellness culture," says Melissa Morgan, manager of wellness programs for Emory's Faculty Staff Assistance Program.
Programs that contributed to the award achievement included:
Walking programs, such as on-site walking groups, walking challenges, National Walking Day events;

Nutrition education, such as individual nutrition coaching services, cooking demos, National Nutrition Month events, workshops and healthy recipes;

Health screenings, including blood pressure, blood glucose, cholesterol and body mass index screenings.
The American Heart Association acknowledges these programs, noting, "Heart disease is the No. 1 killer in the U.S., and physical inactivity doubles the risk. This is a scary thought when you realize we spend most of our waking hours sitting behind our desks at work."
---