Emory's Few and Evans residence halls hope to see energy savings come out in the wash.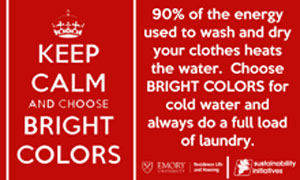 Student William McCabe designed this graphic for Few and Evans' laundry education campaign.
This month, a laundry education campaign will encourage students who live in these residence halls to wash their clothes with cold water and to do full loads of laundry.  
These simple steps get clothes clean while saving energy and money.  
"About 90 percent of energy used for laundry is for heating water, so this has huge impacts on our electricity usage and reduction goals," says Emily Cumbie-Drake, sustainability coordinator in Emory's Office of Sustainability Initiatives.  
The pilot program is a partnership between Residence Life and Housing and Emory's Office of Sustainability Initiatives, and supports Emory's goal of reducing energy use 25 percent per square foot by 2015 from 2005 levels.  
Inspired by a similar project at the University of Arizona that saved over $400,000 a year, Kyle Griffith,
complex director for Few and Evans, thought the laundry education campaign would be a good fit for Emory. Students who live in Few and Evans halls are part of a First Year at Emory living-learning community that is focused on "living green."  
"We try to tie sustainability into our programming in any way that we can," explains Griffith.  
Signage and magnets affixed to washing machines, designed by student William McCabe, urge Few and Evans residents to "Keep calm and choose bright colors" – the temperate setting for cold water on the residence hall washing machines.  
Students can track their water and electricity use on Energy Monitors in the Few and Evans lobbies, which also have an online component where Emory community members can pledge to take steps like "wash clothes in cold water" or "wait to do laundry until you have a full load."  
Behavior change is the ultimate goal of the initiative, which Griffith says will be measured "on the honor system" with prizes awarded through a raffle at the end of fall semester.  
"The thing that I tell my students all the time is that sustainability is easy," says Griffith. "You can make small changes in your everyday life – whether it is taking the stairs, or using cold water when doing laundry – that are easy to do and ultimately save you money over the long run."
---