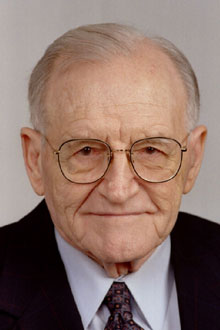 A memorial service for Mack B. Stokes, former United Methodist Church bishop, Emory professor and University trustee, will be Sunday, Jan. 13, at 3 p.m. in Cannon Chapel on Emory campus. Stokes died Nov. 21 in Perdido Key, Fla. He was 100.  
Stokes taught at Candler School of Theology for 31 years. He was the school's first Franklin N. Parker Professor of Systematic Theology, served as a dean and was director of Emory's Graduate Division of Religion. He had served on the Emory University Board of Trustees since 1972.  
Stokes and his wife, the late Rose Yow Stokes, have endowed two programs at Emory: the Mack and Rose Stokes Scholarship Endowment and the Bishop Mack B. and Rose Y. Stokes Chair in Theology.
Stokes was elected to the episcopacy of the United Methodist Church in 1972, serving as bishop in Mississippi where he led a successful effort to merge the African American and white Methodist conferences.
He is the author of more than 10 books and numerous articles, including "Major United Methodist Beliefs" (Abingdon Press 1989).  
Candler Dean Jan Love said, "Mack loved Candler and Emory very much and attended meetings of the Emory Board of Trustees as an emeritus member as frequently as he could. The last time he was on campus was in November 2011, when we took the opportunity at a Committee of 100 meeting to celebrate his 100th birthday a few weeks early."
"Bishop Stokes was deeply committed to theological education," said Dean of the Chapel and Religious Life Susan T. Henry-Crowe. "Upon his retirement he continued to promote the mission of Emory University, Candler School of Theology and the United Methodist Church."  
Candler professor emeritus Brooks Holifield, who also knew Stokes, said, "Mack Stokes was a passionate theologian who enjoyed rigorous, though respectful, debate. He jumped into the theological discussion at Candler with both feet, and he represented his point of view with conviction during a period of passionate theological conversation at the school."
---