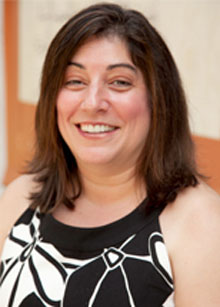 "Violence Against Women: Implications for Healthcare and Society" is the topic of the Mary Lynn Morgan Annual Lecture on Women and Health on Tuesday, Dec. 11 at 6 p.m. in the Claudia Nance Rollins Building, 8th floor.  
The keynote speaker is Debra Houry, vice-chair for research and associate professor in the Department of Emergency Medicine at Emory School of Medicine and in the Department of Behavioral Science and Health Education and the Department of Environmental and Occupational Health at Rollins School of Public Health.
Intimate partner violence is the leading cause of injury for women in the United States today. Houry's talk will discuss intervening and identifying with intimate partner violence victims in health care settings and how to translate this into a societal approach.
Hosted by the Center for Women at Emory, the Mary Lynn Morgan Annual Lecture brings to campus women who have distinguished themselves by their contributions to the vast and varied field of women's health.
"Over the last few years, the Center for Women has had the pleasure of working closely with Dr. Houry to increase the safety of the Emory community and educate the public about violence against women," says Center for Women Director Dona Yarbrough.   
"As director of Emory's Center for Injury Control, Dr. Houry has brought the CWE together with other units on campus to form the Emory Safety Alliance, which seeks to create a centralized approach to promoting safety and reducing injuries in our community. As one of the CWE's Public Voices Fellows, she has been a prolific op-ed writer, publishing pieces about minorities and health reform, domestic violence and the financial crisis facing emergency rooms."  
"Dr. Houry's talk is part of our focus this year on violence against women," adds Yarbrough. "While always a key part of our work, this focus began with Natasha Trethewey's incredible talk about her personal experience with domestic violence at the CWE's 20th anniversary celebration in September, and will continue at our Women's History Month keynote in March."   
A reception with light refreshments follows the lecture. For more information, visit www.womenscenter.emory.edu or email cwe@emory.edu.
---