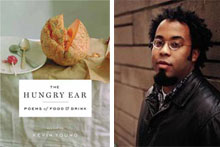 "Food sustains us in such an important essential way, and so does poetry," says distinguished poet Kevin Young, editor of "The Hungry Ear: Poems of Food and Drink" (Bloomsbury 2012).  
The new anthology collects a feast of lesser-known poems by well-known poets about food and drink -- from onions and oysters, berries and barbeque -- to celebrate the ways that food and poetry nourish those who partake.   
"As the holidays approach, we start to return to foods that we are familiar with, and foods we may hate, like fruitcake, but we also think about how some of the ways food carries us through into the spring," says the Emory English and creative writing professor. 
Structured seasonally, the "Wintering" section, for example, has poems about potatoes, pot roast and soup, "but it also contemplates justice. There are poems about loss and healing. The whole book weaves in and out of questions of pleasure, and questions of permanence and questions of memory," Young says.  
Listen to Kevin Young discuss his new book, "The Hungry Ear" and read two of his own poems and discuss their genesis:
Discussion
Reading
---