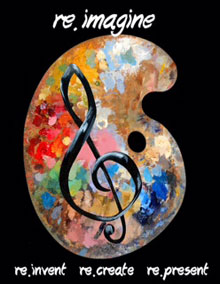 The annual Emory Arts Showcase is back for 2013 and offers the opportunity for Emory students to showcase their talents in the performing and visual arts.
The 2013 Emory Arts Showcase, titled "re.imagine: re.invent re.create re.present," is a two-night event, held at the Schwartz Center for Performing Arts. The Gallery Night for the visual arts section will be held Jan. 18, from 7-9 p.m. All performing arts finalists will present at the Gala Night for the Arts Showcase on Jan. 25, at 8 p.m. 
Students can enter their work into one of three categories:
• "re.present," performing art
• "re.create," visual arts
• "re.invent," a new category where applicants are free to blend and combine artistic genres to express their creativity.
Entry submissions are due by Monday, Jan. 14. View submission guidelines.
Feeling the absence of the Arts Showcase last year, students took the initiative to bring the arts celebration back to Emory. A student committee has planned this year's Arts Showcase, led by senior Kevin Kang. The event is supported by Campus Life, the Emory College Center for Creativity & Arts, and first-year students in the Hamilton Holmes "Creativity and Innovation" Living-Learning Community.
---