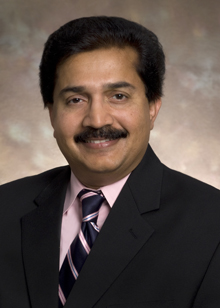 Emory University is the winner of a Grand Challenges Explorations award, an initiative funded by the Bill & Melinda Gates Foundation.
Joshy Jacob, PhD, associate professor of microbiology and immunology at Emory University School of Medicine and the Emory Vaccine Center, will pursue an innovative global health and development research project, titled "Enhancing Infant Immune Responses to Vaccines."
"We thank the Foundation for recognizing the potential benefits of our approach," Jacob says. "Our objective is to develop vaccine strategies tailored to the immune systems of infants, who are particularly vulnerable to infection and usually must rely on maternal antibodies for protection. This could eventually have broad public health benefits."
Grand Challenges Explorations (GCE) funds individuals worldwide who are taking innovative approaches to some of the world's toughest and persistent global health and development challenges. GCE invests in the early stages of bold ideas that have real potential to solve the problems people in the developing world face every day. Jacob]'s project is one of over 80 Grand Challenges Explorations Round 9 grants announced by the Bill & Melinda Gates Foundation. 
"Investments in innovative global health research are already paying off," says Chris Wilson, director of Global Health Discovery and Translational Sciences at the Bill & Melinda Gates Foundation. "We continue to be impressed by the novelty and innovative spirit of Grand Challenges Explorations projects and are enthusiastic about this exciting research. These investments hold real potential to yield new solutions to improve the health of millions of people in the developing world, and ensure that everyone has the chance to live a healthy productive life."
To receive funding, Jacob and other Grand Challenges Explorations Round 9 winners demonstrated in a two-page online application a creative idea in one of five critical global heath and development topic areas that included agriculture development, immunization and communications.
Jacob's research aims to enhance the efficacy of infant vaccines by overriding suppression from maternal antibodies. Maternal antibodies, transferred to the baby via the placenta and then breast milk postpartum, are crucial for protecting infants from infection during their first months of life. However, a disadvantage to maternal antibodies is that they suppress vaccine-induced activation of the infant immune system. Because of this, many vaccines such as measles are given at delayed times, up to a year after birth, leaving a window of vulnerability. Novel vaccine components known as adjuvants may be able to induce robust immune responses that overcome suppression from maternal antibodies. The project will use mice as animal models and later extend the studies to ferrets and non-human primates.
About Grand Challenges Explorations
Grand Challenges Explorations is a US$100 million initiative funded by the Bill & Melinda Gates Foundation.  Launched in 2008, over 700 people in 45 countries have received Grand Challenges Explorations grants. The grant program is open to anyone from any discipline and from any organization. The initiative uses an agile, accelerated grant-making process with short two-page online applications and no preliminary data required. Initial grants of US$100,000 are awarded two times a year. Successful projects have the opportunity to receive a follow-on grant of up to US$1 million.
---