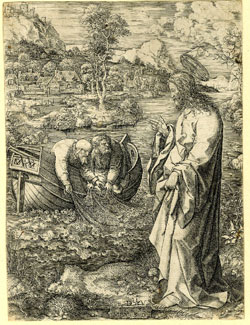 A work of art depicting Christ calling the disciples Andrew and Peter is the topic of a lecture by Emory art history professor Walter Melion on Thursday, Nov. 15 at 7:30 p.m. in the Michael C. Carlos Museum's Reception Hall.  
"Dirk Vellert's 'Christ Calling Saints Andrew and Peter' of 1523:  Reading the Bible through Images in Sixteenth-Century Antwerp" is the title of Melion's lecture.
The 16th century Biblical imagery print was recently acquired by the museum for its Works on Paper collection.  Only five impressions of the print are thought to exist and others are held by the Metropolitan Museum of Art in New York, Harvard's Fogg Museum and the British Museum.  
Dutch artist Vellert's Calling of Peter and Andrew, signed and dated 1523, portrays a subject associated with the Feast of St. Andrew, celebrated on Nov. 30, and the beginning of Advent, says Melion, Asa Griggs Candler Professor of Art History and chair of the Art History Department.  
He describes the acquisition as "an exceedingly fine impression of a rare print by one of the most important printmakers working in Amsterdam and Antwerp in the 1520s and 1530s. The subject has to do with the conversion of an everyday task — fishing — into a metaphor for evangelical ministry: fishing for men."
"Vellert depicts the scene in a new way," explains Melion. "The print turns on the analogy between the metaphorical conversion of fishing and the spiritual conversion of Peter."  
The event is free and open to the public.
---