When recent Emory graduate William Eye first stumbled across an organization called Humanity in Action (HIA) through Emory's National Scholarships and Fellowships Program website, he knew only that something about it resonated within him.
Founded in 1997, the international nonprofit seeks to educate and foster a network of young leaders committed to protecting human rights and the values of a diverse, democratic society through a coveted fellowship program.
The more Eye learned, the more he liked what he saw; the program fit well with his studies in ethics and philosophy at Emory. This year, both he and fellow Emory graduate Digant Kapoor were among 38 students from the United States selected for the Summer 2012 HIA Fellowship — representing the University in an unusual double appointment, says Dee McGraw, director of Emory's National Scholarships and Fellowships Program.
"I couldn't pass up the opportunity to spend time in Europe studying minority rights with like-minded people," explains Eye, a 2012 Emory graduate who is now a Bobby Jones scholar at St. Andrews University in Scotland pursuing graduate studies in international political theory.
A new generation of leaders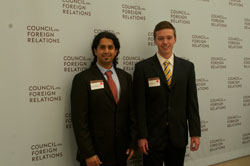 William Eye (right) and Digant Kapoor, both recent Emory graduates, were selected to participate in the Summer 2012 Humanity in Action fellowship program.
HIA Founder and Director Judith Goldstein, a historian by training, was inspired to create the organization after visiting with a former French Resistance fighter, who posed a critical question: How do we educate young people about the need to resist oppressive, authoritarian forces?
While Goldstein didn't have an immediate answer, she countered with a proposal: Why not identify a small group of smart, socially conscious students in Denmark and the United States, put them together for several weeks of inquiry into Danish history during World War II, and let them probe the unique national rescue of the Danish Jewish population?
Goldstein was told that if she could develop the program, financial resources would be secured to make it happen. A year later, she had drawn together American and Danish students for a dialogue that would eventually lead to the creation of Humanity in Action.
The U.S.-based not-for-profit educational organization is now rooted in seven countries and aspires to educate and mentor young scholars to encourage civic engagement and future human rights work.
This summer, Eye and Kapoor became only the fourth and fifth Emory students accepted as HIA Fellows since the program's inception. They joined scholars from around the world, who were assigned to one of five program cities: Amsterdam, Berlin, Copenhagen, Lyon and Warsaw.
"The experience is difficult to put into words," Eye recalls. "It is definitely intense. Days are long, and the curriculum is challenging. But everything is very relevant to HIA's mission statement."
That mission outlines a strategy for instilling the values of human dignity and moral responsibility for the protection of minority rights in a new generation of leaders by:
Engaging students in the histories of resistance to institutionalized violations of minority rights in democratic countries;

Promoting the development of young professionals dedicated to protecting human rights;

Building a multi-national, intergenerational network of emerging leaders in diverse fields.
Hands-on human rights work
For Eye, who worked in Berlin, site visits and discussions delved into current issues facing marginalized populations in Germany, including immigration and legislative responses to migrant issues.
After a two-week research period, fellows picked topics of interest relevant to the promotion of human rights, culminating in a final project. Eye wrote on the United State's stance toward the International Criminal Court.
All HIA Fellows must undertake an action project within a year of completing the program.
"Projects are fantastically varied, and can take the form of educational programs, fundraisers, NGO work, and much, much more," Eye explains. "I plan to organize and perform in a benefit concert here in St. Andrews with proceeds going toward a development NGO."
Kapoor, who is now pursuing graduate studies in international relations at Cambridge University in England, initially thought the program sounded too good to be true: "A nearly all-expense human rights program that provides hands-on exposure to the historical and contemporary human rights issues in Western Europe with a diverse, multicultural group?" he recalls.
"I applied not only because I would be able to learn about the history and contemporary importance of human-rights activism, but also because I would have the chance to interact with victims and activists," Kapoor explains.
In the end, the experience far exceeded his expectations, with opportunities to attend briefings at the Pentagon and State Department to nearly a month of study in Amsterdam, culminating with original research on refugee issues in Amsterdam and an international conference in Sarajevo.
"HIA had a profound effect upon me," Kapoor says. "On an everyday level, it has made me more aware of the importance of examining and highlighting the assumptions that people make in their behavior and language. In the long-term, it has encouraged me to think about possible actions I can take and shape how I envision what I want to achieve in life."
---