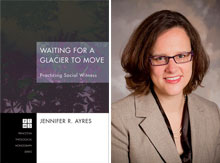 Coming to adulthood in the Presbyterian church,
Jennifer Ayres
had one not-so-simple question: How was it that her fellow church members could work so tirelessly for social causes even with so few large successes? How were they avoiding burnout and cynicism as they continued their work of social witness?  
Inspired and curious, Ayres set out to find answers. The result is "Waiting for a Glacier to Move: Practicing Social Witness" (Pickwick Publications, 2011). In the book, Ayres lays out the theoretical and theological underpinnings of social witness work, linking religious practice and theology to what it takes to sustain social witness work.  
Ayres is associate professor of religious education in Emory's Candler School of Theology. She also directs Candler's Religious Education Program and is an ordained Presbyterian minister.
Listen to Jennifer Ayres discuss her new book, "Waiting for a Glacier to Move" and read an excerpt:
Discussion
Reading
---