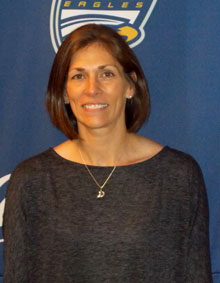 April Flint
April Flint has been named assistant athletic director for recreation and Play Emory, according to Emory Athletics Director Tim Downes.
Play Emory is a new recreation program being launched fall 2013. The program will ultimately replace the current Department of Health and Physical Education program within Emory College of Arts & Sciences and the Fitness Emory program within Emory Athletics & Recreation.
Flint joins Emory from Clemson University where she served as director of intramural sports and Fike Day Camp. Prior to her tenure at Clemson, Flint worked at Georgia Tech in various capacities related to sports, recreation and camps.
"The Play Emory program is a novel approach to physical education and an exciting collaboration between the College and Campus Life," said Joanne Brzinski, senior associate dean for undergraduate education, in the College. "In addition to instruction in exercise or a sport, students learn to incorporate physical activity into their busy lives and discover recreation options they can sustain – an approach we hope leads to a lifelong habit of physical activity."
The implementation of Play Emory follows a year-long external review and recommendations from consultant Brailsford & Dunlavey on how to deliver health and wellness through physical activity across the University in a more consistent, efficient and financially sustainable manner.
The program is currently in the pilot stage this fall. Access to Play Emory for graduate students and faculty and staff will follow at a later date after its implementation for students. 
---