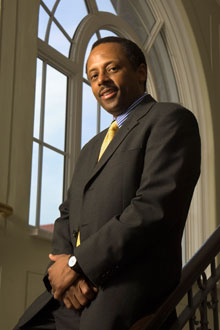 The Emory community is invited to attend a faculty and staff salute to Provost Earl Lewis on Tuesday, Oct. 23, in recognition of his service to the University.
The event, which will be from 4:30 p.m. to 6:30 p.m. in the Matheson Reading Room of Candler Library, will offer a farewell salute to Lewis as he prepares to assume his new role as president of The Andrew W. Mellon Foundation of New York City.
Lewis came to Emory in 2004 to serve as provost, executive vice president for academic affairs, and Asa Griggs Candler Professor of History and African American Studies. He leaves to direct the private Mellon Foundation, which supports areas of higher education, the arts, technology and environmental conservation.
The casual, drop-in event will feature a brief program scheduled to begin shortly after 5 p.m., featuring remarks by President James W. Wagner and other speakers.
For planning purposes, those who wish to attend are asked to register online in advance of the special farewell program at www.emory.edu/events/salute.
---