In Georgia, October is "Student Loan Default Prevention Awareness Month," and Emory University's Peer Financial Counseling Program will host a series of weekly educational activities throughout the month that focus upon student loan management, default and repayment.
Nationally, student loan debt remains a stubborn fact of life, and defaulting on those loans can create serious, lasting consequences, says Maria Carthon, assistant director of Emory's Office of Financial Aid.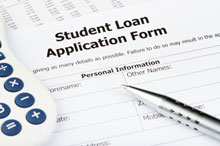 From garnishment of wages or tax returns to bruised credit ratings and even the risk of being denied a professional license by the state, "default can affect so many parts of your life," says Carthon. "Students should really know about various options, because default is ugly."
An average of 13.4 percent of U.S. college students defaulted on school loans from 2008 through 2011, according to figures released last month by the U.S. Department of Education. The loan default rate was 7.5 percent at private institutions, 11 percent at public institutions, and 22.7 percent at for-profit institutions.
At Emory, the cohort default rate is a more modest 1.3 percent; student loans represent about 36 percent of the dollars awarded through the University, Carthon says.
To help increase student awareness about managing student loan debt, the Financial Aid Office will host the following events, which include:
Kick-off Event: Oct. 3, noon, the Oxford-Jones Plaza.
Meet peer financial counselors, get information on how to manage student loans, and enjoy games, free food and prizes.
Ice Cream Social: Oct. 12, noon, Rudolph Courtyard, by Cannon Chapel.
Learn about loan repayment options.
Lunch and Learn: Oct. 19, noon to 1 p.m., Dobbs University Center E338.
Have a free lunch with loan repayment experts from Texas Guaranteed Student Loan Corporation and the Emory Financial Aid Office. Learn about student loan repayment strategies, including Income Base Repayment and Public Loan Forgiveness. To reserve a spot, contact Carthon at MCARTHO@emory.edu.
Wonderful Wednesday: Oct. 24, 11 a.m. to 2 p.m., Asbury Circle.
Meet financial counselors and enter a drawing.
Information Session: Oct. 31, noon to 2 p.m., Dobbs University Center Coca-Cola Commons.
Peer financial counselors will discuss money basics; a money management slideshow will be provided.
---