Through her scholarship in 20th-century legal history and the impact of war on American democracy, Emory Law's Mary Dudziak has found one common truth: the study of law and war is woven with unique interdisciplinary threads.
Taken together, she discovered, they were issues that simply demanded to be studied from a broader perspective.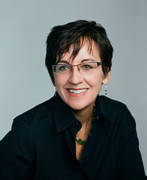 Mary Dudziak, Asa Griggs Candler Professor of Law. Photo courtesy of Emory Law.
And so it is in that spirit of interdisciplinary inquiry that Dudziak launches the new Project on War and Security in Law, Culture and Society this fall at Emory University School of Law, where she is Asa Griggs Candler Professor of Law and director of the project.
The project aspires to unite scholars in law, political science, human rights and history — as well as other academic disciplines at Emory — to examine issues surrounding war from a larger perspective.
"My goal is to bring new work on war in political science, history, anthropology, cultural studies, and other fields more directly to bear on the study of law and war," explains Dudziak, who has written extensively on war, its history and consequences.
Inaugural lectureon Civil War era laws, morals
The project opens this month with its first event — a public lecture by Yale legal historian John Fabian Witt, who will speak about "Sherman at Atlanta and the Moral Structure of the Laws of War" on Monday, Oct. 22, as well as his new book, "Lincoln's Code: The Laws of War in American History."
Offering commentary on Witt's book will be Dan Reiter, chair of Emory's Political Science Department, and Catherine Lutz, the Thomas J. Watson Jr. Family Professor of Anthropology and International Studies at Brown University. The free event on Oct. 22 will take place from 4 p.m. to 6 p.m. in Room 1D at the law school, followed by a reception in the Hunter Atrium.
Though a schedule is still taking shape, the project will feature a graduate seminar and colloquium series in spring 2013, along with related programs, coursework and a web presence.
War in a different light

According to Dudziak, this is an important time for a broader examination of war, as a paradigm shift is under way in the ways we think about war, which American legal scholars and policymakers will need to take into account.
"The traditional view is that war is an exceptional experience — war comes and goes, its impact on the nation is episodic," she explains.
From this perspective, "a wartime balance is struck between liberty and security, which is then recalibrated in peacetime — much legal scholarship continues to operate within this paradigm," she adds.
However, Dudziak contends that the traditional paradigm doesn't fit more contemporary experiences with war, which are contained neither by time nor space.
"Twentieth-century wars weren't confined neatly in time boundaries, and the end of the Cold War era did not bring peacetime, but ongoing lower-level conflicts," she says, a thesis she develops more fully in her new book, "War Time: An Idea, Its History, Its Consequences" (Oxford University Press, 2012).
Newer, critical scholarship argues that "war is an ever-present feature, even though most Americans are isolated from its direct effects," Dudziak adds.
"If we are in the midst of a paradigm shift, Emory can be a place where fields converge to illuminate the way a new understanding of war and conflict affects law and policy," she says.
Launching this kind of examination — and specialized project — at Emory is a "terrific fit due to significant interest in war in the political science department, as well as strength in human rights and the law of armed conflict in the law school, history department and other programs," Dudziak asserts, adding that Emory Law brings its own strengths to the conversation as home to the Center for International and Comparative Law, and the International Humanitarian Law Clinic.
"Many American law schools have developed important programs focused on legal and policy issues related to war and national security," she adds. "A full understanding of law, war and security, however, requires a broader interdisciplinary canvas."
An acclaimed legal historian, Dudziak joined Emory this fall from the University of Southern California Gould School of Law, where she was the Judge Edward J. and Ruey Guirado Professor of Law, History and Political Science.
---