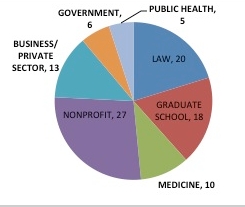 Post-graduation, CBSC Fellows have used their skills and experience to pursue a variety of vocational and academic interests. (Chart provided by Emory's Center for Community Partnerships).
Until last year, Preston Hogue had only dabbled in volunteer work, "the usual stuff," he explains — a little tutoring, a bit of service work, spending time bouncing between various issues and programs.  
But over time, Hogue felt he wanted something more. He liked the idea of bringing substantive change to his community. He wanted to make a difference.  
So when a friend recommended a nationally recognized program that engages Emory students in real-world problem solving around local community issues in partnership with Atlanta-area neighborhoods, he was intrigued.  
"I had done service work before, but not in a sustained way with a particular group or community," explains Hogue, a senior majoring in religion and history.  
"What I was really seeking was something meaningful that could produce systemic change, improving the overall quality of life for people — not just feeding them soup on the weekends," he adds.  
By applying for Emory's Community Building and Social Change (CBSC) Fellowship — the signature engaged-learning program of the Center For Community Partnerships (CFCP), formerly known as the Office of University-Community Partnerships — Hogue found exactly what he was seeking.  
"It's been an incredible experience," says Hogue of the year-long undergraduate program he completed this summer that inspired him to pursue a CBSC minor.  
"Many times over this past year we would look at each other — doing grassroots organizing with community leaders, working with county government agencies and University research groups — and think, 'Wow, these are almost graduate level experiences.' "  
A decade of community engagement  
This past summer, the CFCP observed its 10th cohort of students complete the CBSC program — a milestone that will be formally acknowledged with a Jan. 25 celebration at The Carter Center showcasing a decade of collaborative community engagement.  
By design, the program fosters symbiotic relationships. Emory students gain hands-on skills and experiences while pursuing the University's mission of engaged scholarship; community agencies benefit from students working on critical issues.  
"We're using undergraduates in a role some might hesitate to do — working elbow-to-elbow with our community partners," explains Kate Grace, the program's director. "And year after year, they rise to the challenge."  
To date, CBSC fellows have participated in over 30 community-based projects that have changed policies, spawned new programs, and expanded initiatives to address such issues as HIV/AIDS, affordable housing, the quality of public education and urban sprawl.  
The CBSC program — which champions civic engagement through the integration of scholarship, learning and service — was founded in 2001 by CFCP Executive Director Michael Rich, associate professor of political science at Emory, whose own scholarship includes public policy, urban politics, welfare reform, public housing and community building.  
"Dr. Rich realized that there were programs around the community focused on service activities and programs focused on academic efforts but nothing that brought together both academic and service components in cross-sector collaboration," Grace explains.  
Today, the CBSC program has become a national model for integrating research and classroom learning with community engagement — part of a "service-learning movement," which has seen steady growth at universities across the nation.  
"In many ways, Emory has led the way," Grace notes. "We are contacted on a regular basis from those interested in modeling themselves after this program."  
Life-changing experiences with social issues
The CBSC Fellowship isn't intended solely for social science majors. Last year's fellows came from such disciplines as English, philosophy, religion, international studies, history and political science — variety that is not only welcome, but encouraged.  
The program allows students to simply augment their degrees or even pursue additional credit hours in order to fulfill a CBSC minor.  
Amber-Lee Leslie was a sophomore in political science at Oxford College when she applied for the CBSC program last year. "In my mind, the only thing I could do was be a lawyer or a politician, which left me feeling ambivalent," she recalls.  
The experience "really enlightened me about all the forms a community-builder can take and the many ways to tackle social issues," she says. "It turned out to be thought-changing and life-changing."  
Interested students first apply to take theory-based coursework in the fall semester; enrollment is by permission only. "In some ways, it's a semester-long interview in both directions," Grace admits. "We want to make sure they're ready for the challenge."  
By the end of the fall term, students may apply to continue on into the fellowship. Typically, 12 to 16 fellows are selected for the spring term, when students begin working on skill-building and personal development, forming teams for projects they will pursue through a paid, intensive summer field experience.  
In the process, fellows learn about community-based research, strategic planning and community organizing — skills they'll apply to summer projects proposed by local community groups, with a goal of promoting lasting social change.  
"There are so many things that you learn through the fellowship and over the summer that you may have learned the theory about during the fall, but it didn't make sense until you were living it with real people with real dreams and aspirations," Hogue says.  
The 2012 class of CBSC fellows recently completed two collaborative community partnership projects, each of which received financial support from their host partners:  
Helping develop Quality of Life Plans for the Cross Keys and McNair neighborhoods under the DeKalb Sustainable Neighborhoods Initiative, a pilot project launched by the DeKalb County Department of Human and Community Development and inspired by Chicago's New Communities Program that helps neighborhoods develop their own vision and strategic priorities.

Analyzing parental engagement and suggesting engagement strategies for Coan Middle School and its feeder schools, a project hosted by the Mayson Avenue Cooperative, an affiliate of the Zeist Foundation.
"We like to say they leave with a toolkit," Grace says. "They know how to get an understanding of what issues are at play in a situation and how to make a plan to impact the issues."  
Once the program is over, the impact lingers. Students who've become invested in community projects will often seek ways to continue their work.  
"It's exciting to see that the comprehensive nature of community building can really bring change," says Hogue, who has been hired by CFCP to continuing working with community leaders on the DeKalb Sustainable Neighborhoods Initiative.  
"For me, it's been such a paradigm shift in understanding what working with community and building change can mean, and how that can be applied to whatever you want to do, wherever you go.  
"I'm now pursuing a career in community building," he adds. "At least for the foreseeable future, it's what I want to be doing."
---