Learn about new technologies and how others at Emory are using these tools for teaching and research. Emory's Center for Interactive Teaching (ECIT) offers fall workshops, free to faculty, staff and students, including: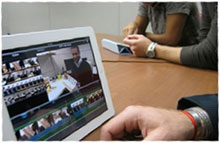 Engaging Students Through Textual Technologies, Oct. 3, 1 p.m.

Engaging Students Through Visual Technologies, Nov. 15, 1 p.m.

Digital Storytelling: Leverage Technology to Engage, Dec. 6, 10 a.m.

iPads as Part of Teaching at Emory, Oct. 19, 10 a.m.

Introduction to Adobe Illustrator, Nov. 9, 2 p.m.
All workshops are held in ECIT classrooms in Woodruff Library. For details or to register, visit ecit.emory.edu/events.  
"Most of the sessions cover new methods to integrate technology into the curriculum, with a focus on best practices. The sessions will also aim to highlight examples of how faculty at Emory are using these tools," says Chris Fearrington, ECIT coordinator.  
Also coming up this fall is a Technology, Pedagogy and Curriculum (TPC) workshop for graduate students, which will focus on how to incorporate emerging technologies and social networking tools into their teaching.  
ECIT — a teaching center with a focus on instructional technology — provides expertise, training and support for creating technology-enhanced materials. ECIT's resources are available free of charge to all members of the Emory community.  
Learn more at ecit.emory.edu.
---