Emory University will re-examine a painful part of its past at the screening of a new documentary film titled, "From Silence to Recognition: Confronting Discrimination in Emory's Dental School History," at 6 p.m., Wednesday, Oct. 10 in Cox Hall ballroom, 569 Asbury Circle, Atlanta. Admission is free.
For more than a decade, from 1948 to 1961, Jewish students in Emory's dental school were failed or forced to repeat courses at a rate disproportionate to their numbers. Although data revealing these practices were presented by the Anti-Defamation League more than five decades ago, the Emory administration at the time denied that this unusually high rate of failures was the result of discrimination by the dental school's dean and faculty.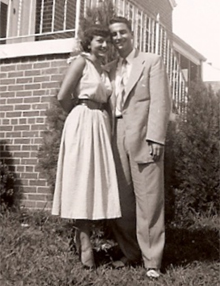 Shirley and Perry Brickman during his first year of dental school at Emory, 1951
Through the initiative of Perry Brickman, a former student of Emory College and the Emory University School of Dentistry, a new film sheds light on a story first published in the 1960s in the book "Some of My Best Friends..." by Benjamin R. Epstein and Arnold Forster. Brickman interviewed dozens of former Emory dental students to create an oral history of that period and conducted documentary research to substantiate their stories. Augmented by interviews of current Emory faculty members and administrators, this history forms the substance of the new film, which was commissioned by Emory and produced by Duke and Associates.
Emory closed its dental school in the early 1990s, as the founding of newer, state-supported dental schools throughout the Southeast led to a decline in Emory's dental enrollment.
According to Eric Goldstein, an Emory alumnus and professor of history at the university, "There are wounds that have been carried by the people who suffered this discrimination because of the fact that it was never openly acknowledged by the university. No one has ever delved into the personal stories of how this affected the lives of individuals. The fact that this event is occurring has provided a chance for this to be aired for the first time, for these individuals to tell their story."
"Emory today is a quite different institution than it was in the 1940s and 1950s," says Gary Hauk, vice president, deputy to the president, and the university's unofficial historian. "In revisiting this chapter from its history, Emory has an opportunity to take another step in helping create a more hopeful and open future for all."
"Emory has one of the finest Jewish studies programs in the nation; we have great accomplishments, faculty and resources," says Deborah Lipstadt, Dorot Professor of Modern Jewish History and Holocaust Studies at Emory. "But the university has said, 'This is a mark on our history, and the only way of addressing it is by shining a light on it.'"
A discussion will follow the film screening. Parking is available at the Peavine Visitors Lot, 27 Eagle Row on the Emory campus. For more information contact Gary Hauk at gary.hauk@emory.edu, 404-727-6021, or visit the Emory website.
---