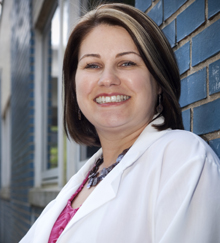 Emory University's Nell Hodgson Woodruff School of Nursing has been awarded a $1.5 million, Collaborative Practice Grant by the Health Resources & Services Administration, a division of the U.S. Department of Health and Human Services.
The Nurse Education, Practice, Quality, and Retention – Interprofessional Collaborative Practice Grant is funded for three years.  It will focus on training advanced practice nurses and physicians to provide collaborative care for dying patients and their families. Working with Emory University Hospital and the Emory Palliative Care Center, the grant aims to strengthen team-based palliative care for nearly 7,000 patients over the next three years.  
This grant will be led by nationally recognized geriatric nursing expert Carolyn Clevenger, DNP, GNP-BC, from the School of Nursing, in partnership with the Palliative Care Center.  
"Advanced practice nurses are in an ideal position to influence the patient's overall plan of care, including working with physician colleagues to deliver primary palliative care," says Clevenger. "This interprofessional effort will prepare our nursing students for a team-based health care model, which is the best way to develop solutions for patients in a clinical setting."
"The grant recognizes the importance of nurses and doctors working seamlessly in teams, leveraging the best strengths of each, to deliver the best outcomes possible for patients," says Linda McCauley, PhD, RN, FAAN, dean of Emory's School of Nursing. "This collaborative training model gives us the opportunity to extend Emory's commitment to palliative care beyond the hospital and into education."
The program will provide for a much wider availability of palliative care to a greater number of patients who will benefit from such an aggressive approach to symptom management.
Tammie E. Quest, MD, director of the Emory Palliative Care Center and associate professor in the School of Medicine, points out that the project will pursue three specific objectives: to strengthen interprofessional care practice, specifically through the provision of primary palliative care in selected services of Emory University Hospital (EUH); to provide expanded leadership roles for nurses at EUH; and to provide expanded opportunities for nursing students to acquire interprofessional care practice skills and knowledge. 
"This is a testimony of what can be done when we work creatively and collectively across our schools and Emory Healthcare. We can link, leverage and define best interdisciplinary team care models in palliative care in a changing healthcare environment," says Quest.
Clevenger notes, "This is a training grant to support the collaboration and teamwork among advanced practice nurses (nurse practitioner) and physicians as they provide palliative care to patients on their primary service. To reach this goal, we will educate nurse practitioners on palliative care principles so that they may provide first-line palliative care to their patients."
Nurse practitioners on the team also will benefit from leadership training to assert their symptom management strategies; the entire team will benefit from team training to improve their communication, clarify roles and responsibilities, and align values and beliefs. Also, nurse practitioner students will be educated with a more robust knowledge of palliative care principles and will rotate as students with the trained teams to apply what they have learned in the classroom.
---