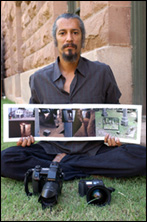 Stephen Marc
The artist Stephen Marc will present new work at the Visual Arts Gallery on Emory's main campus and concurrently at the Catherine Hunt Gallery in Candler Hall at Emory's Oxford College.  
The exhibition, "Relative Connections: New Work by Stephen Marc" runs Sept. 19-Dec. 8. The opening reception is Thursday, Sept. 27 from 5:30-7:30 p.m. in Emory's Visual Arts Gallery, with an artist's talk at 6 p.m.  
Marc is a storyteller, a contemporary American griot who uses collage and photography to construct visual interpretations of U.S. history and the black experience. His images weave more than 500 years of African American life, history and culture into a digital quilt comprised of family snapshots, photographs of historical sites, documents and other remnants alongside modern cultural references. Woven together, his images create narratives and commentaries across the boundaries of time and space.  
The reception and artist talk are free and open to the public. The exhibition is part of ACP 2012, Atlanta Celebrates Photography's annual citywide festival in October; and is made possible by the support of Emory's Hightower Fund, the Graduate Institute of Liberal Arts, the art history department and the Friends of Emory Visual Arts.
---