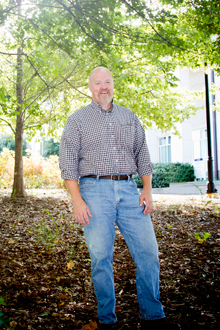 Construction of Emory University Hospital's (EUH) nine-story tower expansion moves into its next phase this fall with the preparation and excavation of the new tower site, which is located along Clifton Road in front of The Emory Clinic Building B.  
As safety fencing goes up this month around the location — a grassy area bounded by Lowergate Drive and Gambrell Drive — construction teams will soon begin the carefully regulated process of tree removal and replacement.  
Project plans will require the removal of 49 trees, including assorted varieties of oak, maple, beech, elm and tulip poplar. Some of the trees are estimated to be between 70 and 90 years old. Four were found to be dead or diseased; two will be moved to other campus locations.  
But their removal will not leave a permanent hole in Emory's forest canopy, considered to be among the best-preserved hardwood forests within the Piedmont province of the Southeastern United States.  
Plans must maintain or improve overall forest canopy  
Under Emory's Forest Management Plan, which guides the preservation and regeneration of forested areas across campus, before any tree may be removed, construction proposals must undergo rigorous scrutiny and reflect well-established campus land use principles, says University Landscape Architect James Johnson.  
Through the 1990s, Johnson says a growing concern to protect the campus canopy resulted in the development of a Land Use Classification Plan, which clearly designates which areas of campus may be used for growth and those that must be preserved to sustain a healthy ecosystem and native biodiversity.  
Of Emory's 740 urban acres, about 50 percent of the campus falls into categories protected under the Land Use Classification Plan, Johnson says.  
The EUH tower construction site has long been considered centralized, buildable land, explains Jan Hawes, a facilities planning coordinator for the Biology Department and chair of the University Senate Committee on the Environment (COE), which reviews, evaluates and makes recommendations about construction proposals and helps resolve environmental concerns.  
Today, campus construction plans must also follow Emory's No Net Loss of Forest Canopy policy, which requires that any time a tree is removed, a sufficient number of trees must be planted in order to maintain or exceed the original forest canopy, says Johnson, who helped create the policy.  
Developed in 1999, the No Net Loss policy is thought to be one of the most rigorous campus tree replacement plans among universities across the country, providing a precise formula that measures the size of a tree and helps calculate the number of replacement trees that must be planted, says John Wegner, a COE member who is also a senior lecturer in environmental studies and the former chief environmental officer for the University.  
"Most tree ordinances deal with tree loss and individual tree replacement," Wegner says. "Our policy looks at it from a forest perspective — we consider the diameter of the tree and where the canopy would normally be. In a sense, you end up getting more trees than with individual replacement." 
For example, under Emory's No Net Loss policy, the 49 trees scheduled for removal at the tower construction site will be replaced by 133 new trees, to be planted over the coming months at various campus locations, Johnson says.  
"Typically, we try to get the trees replaced as close to the project site as possible," Johnson explains. "In this case, we're pretty limited on where we can plant. So we will hold about 20 trees in reserve to be planted in the vicinity of the hospital."  
The remaining 113 new trees — largely hardy, native species — will be planted near:  
Emory Law School

Goizueta Business School

The Schwartz Center for the Performing Arts

Woodruff Health Sciences Center

The Rollins Research Center
Plantings timed to help tree survival
Tree removals are scheduled to take place late September through October by skilled tree specialists. For safety reasons, the trees will not be felled, Johnson says.
Instead, they will be cleared in a controlled manner by first removing limbs and hoisting them down. Plans are being explored to consider ways to use the salvaged wood in structures around campus, he adds.  
Clifton Road is not scheduled for closure during the removals, according to construction sources. Following tree removal, work will proceed on a 50-foot-deep excavation, the future site of an underground parking deck — a task that is expected to take six to seven months to complete.  
Replacement tree plantings will take place from November 2012 through winter 2013, the best time to ensure survival. "We have a very good success rate — greater than 90 percent — with almost all of our tree plantings," Johnson says.  
To hold down costs and aid in survival, most of the new trees will be two inches to four inches in diameter. "The larger the tree is to plant, the longer it takes to adapt," Johnson explains.  
If trees cannot be replaced immediately, funds are set aside in a "Tree Bank" and earmarked for future campus plantings. Tree bank funds come from the construction project budget and are intended to bolster other forested areas on campus, Hawes says — a method that has strengthened the University's tree canopy over time.  
"We've actually gained canopy in the last 10 years by doing this," Hawes says. "We may not have as mature a canopy, but overall the canopy on campus has increased."  
"We're managing our forests better than most universities, probably the best in this kind of urban setting," she adds. "I think we're unique in how we handle our green space issues. And we're looking to the future to make sure this campus remains a major forested area."  
Construction on the EUH tower expansion is scheduled to conclude by the end of 2016, with clinical activities expected to begin moving in during the first quarter of 2017.
---