Winship Cancer Institute of Emory University has been rated "Outstanding" by the National Cancer Institute (NCI), which has renewed Winship's designation as a NCI-Designated Cancer Center for five years.  
Advances in lung cancer research, a world-class multiple myeloma program, one of the nation's oldest and finest leukemia and bone marrow transplant programs, the Southeast's largest head and neck cancer research effort, and a broad portfolio of cancer clinical trials are among the many reasons that the Winship Cancer Institute was successfully renewed by the National Cancer Institute for its cancer center designation. A cadre of some of the highest-regarded and most innovative researchers in their fields was also a key factor. The grant that accompanies the designation is $7.5 million over five years.  
Noted for outstanding facilities, support for cutting-edge research
A panel of 23 NCI-appointed cancer research experts reviewed Winship's application for the renewal and scored Winship at the "Outstanding" level. Only 57 other centers nationwide that provide care to adult cancer patients and conduct research hold an NCI cancer center designation. Winship is the first and only NCI-designated cancer center in the state of Georgia. It first was awarded NCI designation in 2009.  
The national reviewers particularly noted outstanding science in the area of cancer genetics and cell biology, drug development and efforts in cancer prevention. Reviewers also noted Winship's outstanding facilities and support for cutting-edge cancer research.  
Gov. Nathan Deal credited Winship's contributions to all Georgians.  
"Thanks to Emory's Winship Cancer Institute, Georgia is on the front lines of cancer research and innovation," said Gov. Deal. "Winship and its world-renowned faculty and staff have helped countless Georgians through their battles with cancer. The Winship Cancer Institute is an outstanding example of Georgia's robust, collaborative and growing biosciences sector – contributing to our economy and helping people live healthier lives."  
In addition, Winship learned that it once again is the only cancer treatment facility in the entire state to be rated among the top 50 cancer treatment centers in the country by U.S. News and World Report.  
"These ratings of Winship's treatment and research programs define Winship as the premier cancer research and treatment center in Georgia," said Walter J. Curran, Jr, Winship's executive director. "The depth and breadth of our research, the quality of our care, and the total commitment of our entire staff to eradicating cancer are unmatched in the state."  
Curran also noted that specific programs at Winship are not only the best in Georgia but also are among the best in the nation.  
"Winship's faculty and staff are grateful to the NCI for its continued support." said Curran. "Our investigators are fully committed to research that will meaningfully reduce the tremendous impact of cancer on Georgia families. The true beneficiaries of this cancer center designation are the people of Georgia, and we take our responsibility to all citizens very seriously."  
"We are delighted to learn of the NCI's continued support for the Winship Cancer Institute's cancer center designation," said Wright Caughman, CEO of the Robert W. Woodruff Health Sciences Center and executive vice president of health affairs for Emory University. "The faculty and staff at Winship believe strongly in its mission and work every day to make inroads against a disease which takes far too much from far too many."  
The NCI, a division of the National Institutes of Health, was established under the National Cancer Institute Act of 1937 and is the primary federal agency for cancer research and training. The National Cancer Act of 1971 broadened the focus of the NCI, whose primary goals still remain prevention, detection and discovery of cures for cancer.  
Toward those ends, the NCI began a program to identify and support NCI-designated cancer centers to develop and translate scientific knowledge from promising laboratory discoveries into new treatments for cancer patients.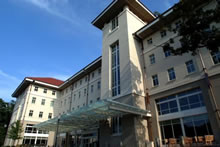 "Winship Cancer Institute is providing essential cancer research and patient care in a setting that blends the two under one roof," said U.S. Rep. John Lewis.
U.S. Rep. John Lewis, (D-Atlanta), understands the rigorous process that Winship underwent and supported the center's efforts in Washington.   
"Winship Cancer Institute is providing essential cancer research and patient care in a setting that blends the two under one roof," said Lewis. "Through its patient care and its world-class research programs, this institute is essential to every Georgian whose life has been touched by cancer.  Winship has been and will continue to be the state's leader in cancer treatment, and I am delighted that it has achieved successful renewal of its status and received such outstanding scores."  
U.S. Rep. Jack Kingston (R-Savannah) also has been a strong supporter of Winship.   
"I am proud of the commitment that Winship physicians and researchers have made to the people of Georgia, and I am grateful for their continued research into the cancers that afflict our citizens," Kingston said. "I am impressed with Winship's strong scientific programs and its emphasis on collaboration throughout the state in the care of Georgians with cancer."  
Curran stressed that this designation is at once an emblem of trust and a responsibility that Winship takes seriously. "The designation is not about bragging rights," Curran explained. "It's about a standard of cancer research excellence in Winship's clinical, laboratory and community environments. This designation facilitates our ability to better understand cancer and to work cooperatively with other NCI-designated centers in conducting impactful research."  
Overall NCI funding of research grants to Winship has tripled in the past 10 years, going from $9.49 million in 2001 to $29.5 million in 2011.  
Most important measure of success is service to patients
For all of its successes, the most important measure of the strength of Winship's services is how well it serves patients.  
"The whole thing is, you've got the Winship team, and you've embraced them, and they embrace you," said Greg Gregory, a laryngeal cancer survivor from Atlanta. "They understand you as a person. It gives you so much confidence, which you need if you're going to win this battle. I don't know how Winship accumulated all that talent in one place, but it's pretty amazing."  
Peachtree City resident Dick Bowley credited Winship's doctors and nursing staff in helping him survive leukemia. He is doing so well now that he plans to run in the Winship Win the Fight 5K Walk/Run on Oct. 13.  
"They are all angels," said Bowley of the Winship staff. "I wouldn't be here without them."
---