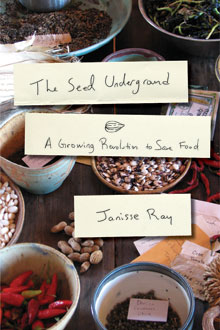 Naturalist, author and activist Janisse Ray comes to Emory's Cannon Chapel on Wednesday, Sept. 5, at 7 p.m.
"An Evening with Janisse Ray" features Ray speaking about her new book, "The Seed Underground: A Growing Revolution to Save Food." She will discuss how the disappearance of seeds threatens our underlying health and food security, and how the seeds' loss means the loss of the stories, heritage and history that pass between people as seeds are passed from hand to hand.
Following the talk there will be a book signing, with an opportunity to buy the book (checks or cash only).
Ray, who also wrote "Ecology of a Cracker Childhood," is a self-described seed-saver, seed-exchanger and seed banker who lives on a farm in south Georgia. Emory science writer Carol Clark, who attended a workshop at Ray's farm, says, "It's easy to appreciate the Rocky Mountains or a soaring eagle. Janisse Ray helps you see the beauty in a Georgia pine forest and a humble gopher tortoise."
The event is sponsored by Emory's Office of Sustainability and Georgia Organics.
For more information, visit sustainability.emory.edu or call 404-727-9916.  
---