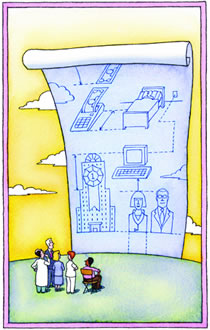 When Tim Buchman came to Emory two years ago to streamline critical care within Emory Healthcare, one of his first goals was to make sure every ICU was staffed 24/7 with a nurse practitioner or physician assistant specializing in critical care.
In addition, every unit now has a medical director.
These are just some of the changes Buchman has instituted as he remakes critical care within Emory. Since critical care medicine can be the most resource-intensive of all inpatient care, he currently is developing an overall operational plan that details the processes that must take place when a critically ill or injured patient is admitted to an Emory Healthcare ICU. "Not all patients need care at the same level, but they all can be managed by the same processes," he says.
ICU clinicians come from such diverse professional backgrounds as pulmonary medicine and surgical intensive care so he is underwriting interdisciplinary training sessions to improve communication and encourage team building. At one recent session, the team had to work through a hypothetical scenario that included rescuing medical professionals held hostage by foreign rebels. The participants had to develop a plan to get the hostages out of danger and home safely—much as they have to do with many of their patients.
On 11-South at Emory University Hospital Midtown (EUHM), Buchman and his team are building a next-generation ICU that will become the standard design for all Emory Healthcare ICUs. Patient rooms each will be 313 square feet, a size that's 83 percent bigger than current ICU rooms. Each room will have space for family members, including a computer desk.
In the new design, nursing workstations will be located between every two patient rooms, with wide windows into the rooms. Each room will have a camera to send images to a team theater where health care providers will develop a plan to ensure that each patient gets complete and consistent care.
The new ICU also will feature quiet care. "Go into the average ICU today and the first thing you are assaulted by is noise," says Buchman. "Of course it is important to receive and respond to alerts. But why generate the alerts next to the patient? Let's send them directly to the caregiver." The monitoring instruments will send alerts to the workstations or to a "voice badge" that nurses can wear on their lanyards to help them monitor patients as they move about the unit.
These ideas also will be incorporated in Emory University Hospital's new bed tower — more than half of the 210 beds there will be for critical care — and EUHM's new 12-bed cardiothoracic ICU. At Midtown, a bridge will be built to connect the OR and the ICU so postoperative patients can travel from one to the other without having to enter an elevator.
Redesigning critical care now is of particular importance since Atlanta's population is graying. "We're on the cusp of not having enough critical care physicians," says Buchman. In metro Atlanta, the population of people aged 65 and older will rapidly increase by 38 percent between 2010 and 2015. As a result, demand for these physicians will outstrip supply by as early as this year.
---