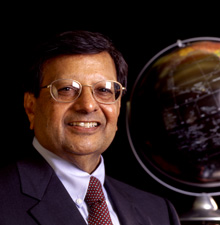 Jagdish Sheth, Charles H. Kellstadt professor of marketing at Goizueta Business School, has been named among the top 10 2012 Global Indian Thought Leaders by The Economic Times, India's leading financial daily newspaper. 
Sheth, who has taught at Emory since 1991, was named as the sixth top-ranked thought leader among a list of distinguished academicians, who represent institutions including the London Business School, Harvard Business School and Kellogg School of Management. 
The ranking was the result of a larger survey conducted by The Economic Times, in partnership with global market research firm IMRB International, to identify business leaders recognized for their efforts to shape corporate India. 
Sheth says he was pleased to learn of the recognition, adding that it puts both Emory and himself "in good company."
"It really puts a spotlight [on the fact] that we need to watch scholars as they make an impact on the world — not just the Indian scene," he says. "Most [on the list] made an impact not just on their own country, but in the United States. They came here as graduate students, got PhDs and did well."
Sheth adds that "the United States has a knack for getting the most potential out of an individual, giving them an opportunity, a foot on the platform, to create new knowledge and make an impact."
Recognized for his global contributions in areas of consumer behavior, relationship marketing, competitive strategy and geopolitical analysis, Sheth also specializes in marketing theory and demographics. 
Sheth believes he was included in this year's Economic Times list due, in part, to a series of books he has written covering a variety of marketing and business strategy topics, from the geo-political impact of the rise of China and India to the self-destructive habits of good companies. 
His latest book, "The Four A's of Marketing: Creating Value for Customer, Company and Society," challenges the traditional role of capitalism as one that solely serves shareholders, calling for "conscious capitalism" — industry that creates value for society, not just itself.
---