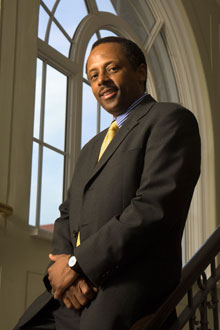 A 16-member search advisory committee headed by Candler School of Theology Dean Jan Love has been appointed by President James W. Wagner and charged with identifying potential successors to Provost and Executive Vice President for Academic Affairs Earl Lewis.
Lewis, the Asa Griggs Candler professor of history and African American studies, and a fellow of the American Academy of Arts and Sciences, has been named the next president of the Andrew W. Mellon Foundation in New York City. He has said that he expects to leave Emory by the end of the year to assume the Mellon presidency early next year.
A list of priorities reflecting the forces acting nationally on higher education will await his successor, including:
Defining and refining the future of liberal arts education in a society that is anxious about careers and job placement;
Navigating the university's place in the brave new landscape of educational technologies, including distance learning;
Traversing the shifting terrain of cost and price, as tuition becomes subject to new constraints and financial aid requirements grow;
Helping to develop and extend Emory's international strategy in a world made ever smaller by globalization;
Fostering faculty engagement and governance.
"We had an informative meeting with President Wagner, who asked us to consider the pool of candidates produced by a national search process and forward to him no more than two to four finalists for his consideration," Love says. "Our committee is energized by the prospect of being able to consider who might best serve as the next chief academic officer of this university. We are prepared to work hard over the summer and early fall with the goal of being able to send forward several names by early November."
Nationally known executive search consultant William Funk has been retained to assist in the search. Love emphasized that internal as well as external candidates will be given full consideration.
"The Search Advisory Committee welcomes nominations for the provost position from anyone on campus, including faculty, staff, administrators, students and alumni," she says. "They may be sent to me as chair. We will be holding a number of listening sessions across the Emory and Oxford campuses with various governing bodies, as well as two open forums to give every opportunity for the community to offer input on preferred attributes of the new provost."
Dates will be announced prior to the beginning of fall semester.
"The provost's job is a formidable one, though we have just seen it performed gracefully and skillfully for nearly eight years by Earl Lewis," says Wagner. "On a personal level, the provost must be an effective and complementary working partner with the president and Emory's other two executive vice presidents. On an institutional level, we look to the provost as the ultimate steward of academic integrity and the driver of academic excellence and achievement."
"In addition," Wagner continues, "the provost provides leadership to the deans and oversees the faculty promotion and tenure process. When we consider that the provost also convenes and participates fully in the Ways and Means Committee, which develops the university's annual budget for presentation to the Board of Trustees, the great breadth and depth of the provost's responsibilities become evident."
Love said the search committee is charged with finding candidates who are outstanding scholars and teachers, fully qualified for tenure in their chosen disciplines and capable of leading the academic enterprise by example as well as decree.
Members of the committee are:
Maryam Alavi, vice dean for faculty and research, Goizueta Business School
Lynell Cadray, assistant dean for admission and student services, Nell Hodgson Woodruff School of Nursing
Kenneth Carter, associate professor of psychology, Oxford College
Gray Crouse, professor of biology
Martha Fineman, Robert W. Woodruff Professor of Law
Robin Forman, dean and Asa Griggs Candler Professor of Mathematics, Emory College of Arts and Sciences
Ashish Gandhi, president, Student Government Association, Emory College of Arts and Sciences
Thomas J. Lawley, dean, School of Medicine
Jan Love, dean and professor of Christianity and World Politics, Candler School of Theology
Michael Mandl, executive vice president of finance and administration
Richard A. Mendola, vice president for information technology and chief information officer; interim vice provost and director of Emory University Libraries
Benjamin Reiss, professor, Department of English
Leah Ward Sears, former chief justice of the Georgia Supreme Court; member, Board of Trustees
Lisa Tedesco, vice provost for academic affairs; dean, James T. Laney School of Graduate Studies
Paige Tolbert, professor and chair, Departments of Environmental Health and Epidemiology, Rollins School of Public Health
Stuart Zola, director, Yerkes National Primate Research Center.
---