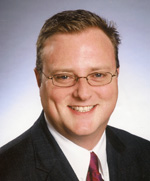 Tiimothy L. Hussey was given the Chapter Champion Award from the Georgia Chapter of the Public Relations Society of America.
Hussey is senior director for marketing and communications for Emory's School of Law.

He was recognized for his outstanding volunteer work for the state's chapter.

Luella Klein has a Lifetime Achievement Award named for her from the American College of Obstetricians and Gynecologists.
She is a faculty member of Emory's Department of Obstetrics and Gynecology. 

Klein received the award when it was inaugurated. She was also the  first female president of the American Society of Obstetricians and Gynecologists.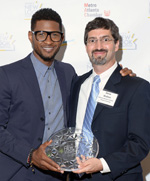 Steve Walton (pictured on the right) accepted the Youth Catalyst Award from R&B singer Usher's New Look Foundation on behalf of Emory to recognize the seven-year partnership between Emory and New Look.

Walton is associate dean of executive MBA programs at Goizueta Business School.

He is actively working with New Look, designing curricula for the foundation's camps and programs and helping shape its strategy.



"Acclaim" recognizes the accomplishments of staff and faculty. Listings may include awards and prizes; election to boards and societies; and similarly notable accomplishment in the wider community. To submit an item for the weekly "Acclaim" column, contact emory.report@emory.edu.
---