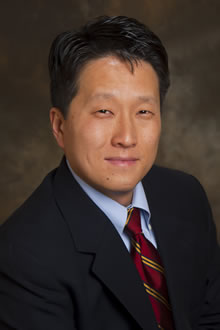 An distinctive approach to fighting cancer – reactivating a patient's subdued immune system – has shown promising results in early clinical trials. Researchers working in Winship Cancer Institute's phase I clinical trials unit played a part in this research that is receiving considerable attention. Emory scientists have played a leading role in identifying the molecular basis for this experimental therapy.
The results were presented Saturday at the American Society of Clinical Oncology meeting in Chicago and simultaneously were published in the New England Journal of Medicine (NEJM).  John Kauh, MD, medical director of Winship's solid tumor phase I trials program, is a co-author on the NEJM paper.
An experimental drug was tested with patients fighting a variety of advanced cancers (colon, skin, lung, ovary, stomach, pancreas, breast and kidney) who had already been treated with standard therapies. Winship was the cancer center where the first patient in the study was treated, and 23 of the 207 patients in the study received their care at Winship.
The response rates were highest for skin cancer (17 percent), kidney cancer (11 percent), and lung cancer (10 percent). While these numbers may seem disappointing, response rates for patients whose tumors have stopped responding to a first round of treatment are generally quite low. Some patients saw their tumors shrink significantly, some for more than a year after taking the drug.
"These results are very exciting because phase I trials rarely demonstrate responses as impressive as those seen here," Kauh says. "In addition, the responses seen in lung cancer are truly remarkable as this is a disease that has traditionally been thought not to be responsive to immunotherapy."  

Cancers have a variety of ways of evading the body's immune defenses. The therapy under investigation seeks to reactivate T cells that have become "exhausted", by blocking interactions with a molecule called PD-1 that shuts T cells off. In 2006, Emory Vaccine Center director Rafi Ahmed's laboratory was the first to define how PD-1 blunts immune responses during chronic viral infections.
"We showed that PD-1 is a brake that needs to be released to make the T cells functional again," Ahmed says. "This discovery was the basis for this immunotherapy, which is now showing promising results in both cancer and chronic viral infections."
The recent clinical trial results show that T cell exhaustion could be an important factor limiting a patient's ability to fight a variety of tumors. Results from testing a similar antibody, with even higher response rates, were also reported at ASCO and in the New England Journal of Medicine. Bristol Myers Squibb is developing antibodies that block PD-1 or its partner PD-L1 as experimental anticancer treatments. Kauh's study was funded by Bristol Myers Squibb, the National Institutes of Health and the Melanoma Research Alliance. The lead investigator was Julie Brahmer at Johns Hopkins.
Researchers also may have found a way to find out which patients will benefit before starting treatment by looking at how much PD-L1 a tumor has. Larger clinical studies are planned.
---