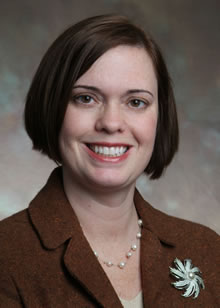 As executive administrator for surgical services, Heather Hamby oversees the first dedicated team focused on improving operating room efficiency in Emory's hospitals. Made up of business staff, the team partners with nursing leadership and staff, surgeons, and anesthesiologists to identify areas for improvement and devises plans of action to make it happen. With the goal of using every OR to maximum capacity, the overall team already has improved on-time starts, OR utilization, and scheduling accuracy, with more upgrades on the horizon.
Hamby also serves as the general academic administrator for the Department of Surgery, providing operational oversight for its research and education programs and for its clinical practice at Grady. She reports to Surgery Chair Chris Larsen but also to Barbara Schroeder, the medical school's executive associate dean for fiscal affairs, and to Don Brunn, president and COO of the Emory Clinic. More than 150 staff report to Hamby or to her managers for finance and operations, academic programs, human resources, information technology, and communications.
"Dr. Larsen and the faculty have the vision," says Hamby, "and we help them make it reality."
In a recent typical week, Hamby met with Larsen, faculty, and architects to review renovation of the residency space in Emory University Hospital. She and the OR team reviewed a proposal for OR expansion before it went to EUH leadership. And she participated in discussions of new faculty hires, helping determine appropriate salary levels and developing proposed offer letters for the dean's office.
The biggest challenge we all face, she says, is meshing opportunities with limited financial resources. Next biggest: not letting the mountain of day-to-day work overshadow long-range strategic goals and objectives.
Hamby, who has an MPH in health policy and management from the Rollins School of Public Health, first joined Emory in 1993 as financial coordinator in Winship's Bone Marrow Transplant Program. An alum of the Woodruff Leadership Academy, she has leadership in her blood, which explains her eventual rise to be Emory Transplant Center's executive administrator, a role she retained until last year.
Hamby sees in surgery the same vision, energy, and leadership that moved the transplant center into the top 10 in the country. She is proud of having helped build the infrastructure and management team to make that possible. She's also proud of the progress in surgery over the past few years: improved fiscal health and more detailed and accurate reporting methods; stronger administrative structures in sections and across the department; more direct and comprehensive support to a rapidly growing number of investigators; and a nationally respected quality control office, headed by surgeon John Sweeney, that is reducing mortality, morbidity, length of hospital stay, and other quality indicators.
---