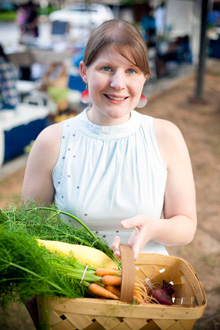 A perfectly ripe tomato sits upon Jennifer Maley's desk in Emory's Office of Development and Alumni Relations.  
The pristine produce resembles artwork as much as it does lunch — which it will soon become, when sliced and assembled into a sandwich that sings with the flavors of summertime.  
These days, it's also a bit of symbolism, representing how her personal and professional lives have come to intersect. And how circular it all seems.  
As senior associate director of development in the Office of Annual Giving, Maley appreciates the power of storytelling, as she relates the impact that financial gifts have upon the important work being done at the University.  
In fact, her love of writing — and storytelling — was nurtured at Emory. As a 2004 creative writing graduate of Emory College of Arts and Sciences, Maley had the chance to study with Natasha Trethewey, the recently named U.S. Poet Laureate, who will direct Emory's creative writing program this fall.  
Recently, Maley wove her passion for writing with affection for handcrafted Southern specialty foods to launch Local Market South, an online marketplace that celebrates artisanal regional foods — and the stories behind them.  
Maley talks with Emory Report about how the University has helped shape both her professional path and her new outside venture:  
Your first exposure to Emory was as a student. How did you find your focus?
Like any college freshman, I really didn't have a clue. I was in art history, then sociology. Finally, I settled into creative writing and minored in art history and studio art. I did photography while I was here, too, but majored in creative writing.  
I've always been passionate about writing and literature, and the program here was really strong. Natasha Trethewey had recently arrived, and she was my adviser. I did a poetry thesis when I graduated; it was a wonderful experience, I loved it. And I've always found a place for writing since then, no matter what I do from 9 to 5.  
Did the University become a workplace right away?
After graduating, I worked for the Emory Center for Women for about a year then decided to explore other things. I worked for WAND (Women's Action for New Directions), a local non-profit, where I learned a lot about politics and the legislative system, both local and national, and did some lobbying in D.C. — something I'd never really done before that helped me branch out. I'd always been a little shy, so that kind of went away really quickly.  
At the time, I was still trying to find myself and cared about the arts, so I decided to take a risk and leave my full-time job to enroll in a summer certificate program for art museum studies at Smith College. When I came back, I worked at the High Museum of Art about four years, first in public relations and then on the wine auction [fundraiser], which is how I came to development work. Through that, I got more and more involved with food and wine, which I'd always had a passion for.  
How did you find your way back to Emory?  
I was trying to figure out where I saw myself long term, evaluating what parts of my career I had liked the most. I wanted to be in a place where I could grow, personally and professionally, where there were lots of opportunities. My thoughts took me back to higher education — both my parents were educators — and all the amazing work going on at Emory.  
The annual giving office really appealed to me because of the chance to work with all of the schools and units. Since I work on all of our direct marketing efforts, I still get to use my communications skills. I knew when I graduated that I wanted to have a higher purpose to what I was doing — constantly seeing the meaning of your work, that's always present here at Emory.  
Have you always been a foodie? Where do those threads begin?  
Food was always important on both sides of my family. Mom's side is from the South; my dad's side of the family is of Ukrainian background. My grandfather worked in coal mines and they had lots of Polish and Italian friends, so that was the kind of food they made — lots of lasagna, kielbasa and stuffed cabbage.  
When I was a student at Emory, I took a non-fiction writing class. We wrote a lot of personal essays, and I wrote about the idea of comfort food and what it meant to different people and cultures. I really think it's just writing what you're passionate about. For me, that turned out to be food.  
How did you begin writing for the Web?  
I wanted to volunteer with the Peachtree Road Farmers Market. I looked at their blog — which had maybe two posts from the prior year — and said, "What if I wrote your blog?" I've been doing that for a few years now and post once a week, through their season, which is April through December. Eventually, my husband, John, and I started our own blog, Food We've Eaten, which touched on cooking, eating out and traveling. Just whatever we made at home … or ate elsewhere.  
Tell us about your new outside business venture, Local Market South.  
[My husband] John and I were interested in creating a business and started thinking about what our skills were and what we were passionate about. Then we thought about all the amazing food being produced by these great Southern artisans, whose products you could find scattered in neighborhood markets, but not one central location.  
With my writing, I'd always been tied to place and the South. With John's background in web design and knowledge of e-commerce, and our shared love of food and photography, we decided to create an online market — telling the stories of these vendors and having a place to find all of this great stuff. We launched last September, so we're not quite a year old.  
What Local Market South offers is a curated selection of foods. So we try everything before we sell it and we hear the stories behind the products. Many do have these great stories — it's part of what we're looking for.  
What's on the local food scene right now that you're just crazy about?  
I love pancetta [unsmoked Italian bacon], and we sell Pine Street Market pancetta from Avondale Estates. My favorite thing about summer is that it's really easy to make dinner. We'll just make pasta and cut up some cherry tomatoes and add either goat cheese or Parmesan cheese and some pancetta and it's fantastic. It's like you're a gourmet cook and you didn't do anything tricky.
---