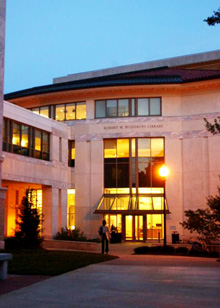 Richard Mendola, vice president of information technology and CIO, will serve as interim vice provost and director of Emory University Libraries pending the appointment of a successor to Rick Luce.
After six years of service, Luce has accepted the position of dean of libraries at the University of Oklahoma.
"As a result, we will launch a national search for his replacement," according to Provost and Executive Vice President for Academic Affairs Earl Lewis.
Michael Elliott, senior associate dean for faculty in Emory College of Arts and Sciences, has been appointed to chair the committee.
The committee is going to convene later this month to receive its charge from the provost, Elliott says.
"We hope to move very quickly, so that we can have a candidate named before the end of the fall semester," he adds.
Committee members include:
• Doug Bowman, Goizueta Business School
• Sandra Franklin, Woodruff Health Sciences Center Library
• Pat Hawthorne, Woodruff Library
• Deb Houry, School of Medicine
• Rosemary Magee, vice president and secretary of the University
• John Nickerson, School of Medicine
• Ron Schuchard, Emory College
• Allen Tullos, Emory College
---