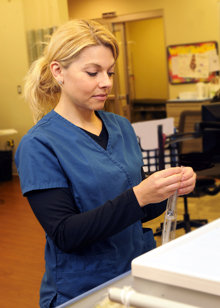 Bristol-Myers Squibb Company and Emory University have formed a strategic partnership to conduct clinical trials involving Bristol-Myers Squibb's investigational compounds. 
Investigators from Emory and affiliated institutions will conduct clinical trials in metro Atlanta to support the development of investigational medicines from across Bristol-Myers Squibb's portfolio, particularly in oncology, metabolics, hepatitis C and immunoscience. The agreement builds on recent experiences between the two organizations in conducting clinical trials in organ transplantation and cancer.
In the first studies under the new agreement, researchers from the Winship Cancer Institute of Emory University will work with Bristol-Myers Squibb scientists on multiple clinical trial programs in oncology.
"This partnership is aligned with Bristol-Myers Squibb's strategy, which embraces the opportunity to selectively integrate the expertise of other organizations with our own to best meet the treatment needs of patients," said Brian Daniels, senior vice president, Global Development & Medical Affairs, Bristol-Myers Squibb.  "Our expectation is that the shared commitment of providing innovative solutions for patients, the world-class talent at both organizations and the clinical trial expertise at Emory, will result in important advancements in the understanding of Bristol-Myers Squibb compounds and their potential for treating patients with devastating diseases, such as cancer." 
"Through this partnership, we are working to provide a framework to improve clinical trials efficiency and to enhance the development of academic and industry collaborations that solve health care problems," says David S. Stephens, vice president for research in Emory's Woodruff Health Sciences Center and principal investigator of the Atlanta Clinical and Translational Science Institute (ACTSI). "Emory's successful partnership with Bristol-Myers Squibb in developing drugs for organ transplantation is an excellent example of the benefits of these kinds of collaborations."
---