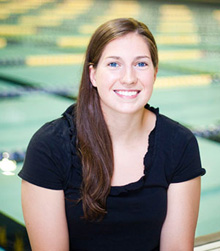 Recent graduate Claire Pavlak qualified in late March for 200-meter butterfly. The preliminaries for her event will take place on the morning of Sunday, July 1.
Recent Emory University graduate Claire Pavlak and rising senior Miller Douglas will each be taking part in this week's Olympic Swimming Trials in Omaha, Nebraska, becoming the first two swimmers in the program's history to participate in the meet.
Fans can follow the action at the Olympic Trials via a number of methods. For each event, all but the fastest heats of the preliminaries will be webcast live beginning at 11 a.m.

The fastest heats will be broadcast daily on tape delay on NBC Sports, while the finals will air live nightly at 8 p.m. on NBC. Consult your local listings for more information.
Douglas, who collected all-America certificates in two individual events and two relays in 2012, qualified for the 200-meter butterfly with a time of 2:02.95 at Auburn University two weeks ago. He will be competing in the preliminaries of the event during the Wednesday, June 27 morning session, to be followed by the semifinals during the evening session, and the finals during the Thursday, June 28 evening session.

Pavlak, a nine-time NCAA Division III National Champion and 20-time all-American, will be competing in the 50-meter freestyle after recording a time of 26.29 seconds in late March to qualify for the event. The preliminaries of the event will take place on the morning of Sunday, July 1, with the semifinals being held later that evening, and the finals on the night of Monday, July 2.
Swimmers selected to the Olympic Team during the trials will represent the United States at the 2012 Olympic Games in London, England.
Update
---