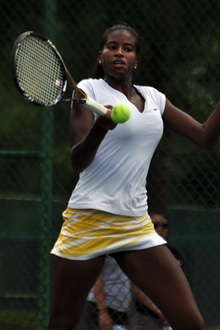 Recent Emory University graduate and former women's tennis player Zahra Dawson was invited to the White House as part of the 40th Anniversary Celebration of Title IX.
Dawson will be attending the ceremony on Wednesday, June 20 from 2 to 4 p.m. The event will be live streamed at www.whitehouse.gov/live.
The ceremony will celebrate the achievements afforded by Title IX, and discuss the past, present and future of this landmark legislation. Participants will be joined by notable women and men from the fields that have been greatly impacted by Title IX, from athletics to education. The invitational was sent on the behalf of Valerie Jarrett, senior advisor to President Obama and chair of the White House Council on Women and Girls, and Tina Tchen, executive director of the White House Council on Women and Girls. 
Dawson ended her Emory career as the program's all-time leader in doubles victories with 105, and second in school history with 86 singles victories. The four-time all-American recently recorded her second-career runner-up finish in the doubles draw at the NCAA Division III Championships, and helped the Eagles to a third-place finish in the team championships.
Dawson recently was named to the Capital One Academic All-America First Team, after earning a second team honor in 2011. With a 3.81 grade point average as an applied mathematics major, Dawson is an NCAA Postgraduate Scholarship candidate, and will be attending medical school at the University of Michigan in the fall.
"We are really proud that they have picked Zahra to attend," said Emory head coach Amy Bryant. "I can't think of anyone better to represent Division III women's tennis."
---