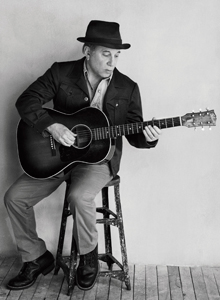 Paul Simon, whose lyrics have graced several generations worldwide, will give the 2013 Richard Ellmann Lectures in Modern Literature at Emory University Feb. 10-12. 
"The international selection committee for the lectures discussed song as a part of world literature, and agreed that Simon was the obvious first choice," says Joseph Skibell, professor of English and creative writing at Emory and director of the lectures.
"A composer of real genius, a sophisticated and at times sly lyricist, Simon has produced, over the course of 50 years, a lasting body of work," says Skibell. "It's a bit of a cliché, but his songs are a kind of sound track to the past 50 years. You can chart the changes in our culture by tracking Paul Simon's songwriting concerns."
From "the sounds of silence" to "staccato signals of constant information," says Skibell, "Simon's work reflects back to those of us who have been listening so much about the times we've all lived through."
The first recipient of the annual Library of Congress Gershwin Prize for Popular Song in 2007, Simon is the winner of 12 Grammy Awards and the Grammy Lifetime Achievement Award for this work as half of the duo Simon and Garfunkel. He is a member of the Songwriters Hall of Fame, and he is in the Rock n' Roll Hall of Fame as a member of Simon and Garfunkel and as a solo artist. In 2002, he was a recipient of The Kennedy Center Honors for exemplary lifetime achievement in the performing arts.
The Ellmann Lectures consist of a series of public lectures that are ticketed but free and open to the public. Tickets will be available near the end of the university's fall semester. Simon's lectures will concern, in part, an overview of the historical antecedents of the music made between 1966 and 1970.
Simon joins a distinguished roster of authors that has made the Ellmanns one of the leading literary lectures series in the English-speaking world. Ellmann Lecturers have included Nobel Prize laureates Seamus Heaney (1988) and Mario Vargas Llosa (2006), Salman Rushdie (2004), Umberto Eco (2008) and Margaret Atwood (2010).
Richard Ellmann
Emory established the biennial lectures in 1988 in honor of Richard Ellmann (1918-1987), who served as the university's first Robert W. Woodruff Professor from 1980-1987. The biographer of James Joyce and Oscar Wilde, Ellmann was one of the 20th century's greatest literary biographers and critics of modern Irish, English and American literature. He enjoyed eminent domain among the interpreters of W. B. Yeats, Samuel Beckett, Henry James, T. S. Eliot, Wallace Stevens, and other modern authors. His public lectures were unparalleled in their appeal to a worldwide audience of readers. Ellmann always spoke in a language that invited the reader to share his or her personal engagement with serious literature.
---