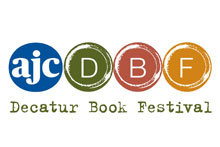 More than a dozen offices across Emory University who share an interest in literature and the arts will join forces to become a major sponsor of the 2012 AJC Decatur Book Festival.
Those collaborating on the sponsorship include:
Emory Libraries, including the Manuscript, Archives, and Rare Book Library and its Raymond Danowski Poetry Library
the Communications and Marketing division
Barnes & Noble at Emory
Arts at Emory with the Schwartz Center for Performing Arts
Michael C. Carlos Museum
Emory Continuing Education
Creative Writing Program with the Department of English
Center for Faculty Development and Excellence
Creativity: Art and Innovation Initiative
Office of University-Community Partnerships, and 
Office of Development and Alumni Relations.
"It is Emory's presence in the Atlanta region and the Decatur community that helped set the stage for the AJC Decatur Book Festival," says Daren Wang, festival director. "I am thrilled that the partnership we've been growing over the years since the festival's conception has blossomed so wonderfully."
Julie Delliquanti, gallery director and associate curator of exhibitions for Emory Libraries, has been the driving force to create the partnerships campus wide. "We've been delighted with Daren's willingness to create value for each unit to benefit from their association with the festival," says Delliquanti. "Working together with a broad group across the university who provide a variety of artistic, cultural and educational offerings for the community will add to our efforts to create awareness of Emory as a center for literary excellence among the expected 80,000 festival attendees."
The AJC Decatur Book Festival, the largest independent book festival in the country, will celebrate its seventh year of bringing authors and events to Decatur Square over Labor Day weekend, Aug. 31-Sept. 2, 2012. Emory's Schwartz Center for the Performing Arts will serve as the venue for the festival's keynote presentation Friday evening.
Featured authors for the 2012 event, including many Emory faculty and alumni authors, will be announced in early summer.
---