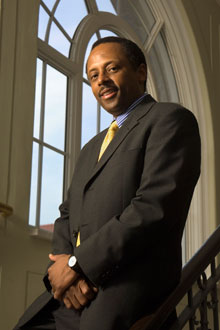 One of the nation's most powerful cultural forces for the support of higher education and the humanities, The Andrew W. Mellon Foundation of New York City, has elected Emory University Provost Earl Lewis to be its new president, beginning early next year.
"It saddens me personally but delights me for his sake to announce that in January, Earl will leave Emory for The Andrew W. Mellon Foundation, where he will become president upon the retirement of Don Michael Randel in March of 2013," said President James W. Wagner in a letter to the Emory community today.
 "The mission of the Mellon Foundation, Earl's profound commitment to the liberal arts and to higher education, and the rich experience of the last eight years at Emory all combine to make the collaboration of Mellon and Lewis perfectly fitting."
In announcing his election as the Foundation's next president, the Mellon Foundation's outgoing board chair, Anne M. Tatlock, said she spoke for the entire board in expressing "enormous pleasure that Earl Lewis has agreed to become president of the Mellon Foundation in March 2013. Earl's clear strategic thinking, ability to focus on the critical issues relating to the humanities, as well as his broad experience as a teacher, scholar and leader at major public and private research universities over more than two decades, uniquely positions him to lead the Mellon in its mission."
Before coming to Emory in July 2004 as provost, executive vice president for academic affairs, and Asa Griggs Candler Professor of History and African American Studies, Lewis served as dean of the Horace H. Rackham School of Graduate Studies and vice provost for academic affairs/graduate studies at the University of Michigan. He is author or co-editor of seven books and was named a fellow of the American Academy of Arts and Sciences in 2008.
"We at Emory can be gratified by all that we have accomplished under Earl's executive leadership in academic affairs," said Wagner. "With his guidance we developed and have implemented a clear and effective strategic plan that laid the foundation for the largest fundraising campaign in Georgia's history. He oversaw the restructuring of our undergraduate admissions programs, resulting in the largest pool of applicants in Emory College history this year.
"His support of the libraries has made Emory one of the foremost sites in the country for digital humanities scholarship, while at the same time we have added strength to our already prominent traditional collections in literary works, African American archives, and southern history," Wagner continued.
"Earl has appointed seven of our current nine exemplary deans as well as leaders in technology transfer and in information technology who are among the nation's best. His rigorous standards for excellence have enhanced both the processes and the outcomes of reviewing faculty appointments and academic programs."
Lewis will remain at Emory through the end of December.
Looking back at his tenure, Lewis observed: "While the work is never complete, it  is reassuring to know that Emory will take the lead in trying to redefine the place of liberal arts education in the 21st century research university; that we have embarked on a thorough, multi-phased and bold exploration of class and labor; that we have ample partners prepared to work with us in the regional community, entrust us with archiving their papers, and believe that we understand the significance of ethics. Our students have long been brilliant and now we recruit them from more varied communities inside and outside of this country."
"While my tenure as provost will come to an end with the close of the calendar year, my love for this institution will long endure and my faith in its ability to lead on many fronts continues to grow," he added. "I know there are still projects to complete before I leave but I am thankful for the years of support and encouragement."
Wagner said he will consult with members of the cabinet and the deans before launching a search for Lewis's successor.
The Andrew W. Mellon Foundation, which is headquartered in New York City, makes grants principally in five core program areas: higher education and scholarship, libraries and scholarly communications, conservation and the environment, museums and art conservation, and performing arts. Additionally, Mellon has been instrumental in the development of ARTstor, JSTOR, and Ithaka, non-profit organizations engaged in various activities to further the use of information technology to benefit higher education around the world. It had $5.3 billion in total assets as of April 1, 2012, and provided $230 million in grants in 2011.
---