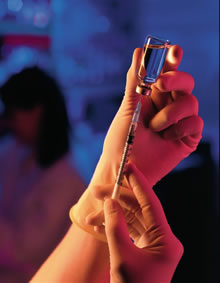 The pandemic 2009 H1N1 vaccine can generate antibodies in vaccinated individuals not only against the H1N1 virus, but also against other influenza virus strains including H5N1 and H3N2. This discovery adds an important new dimension to the finding last year that people infected with pandemic 2009 H1N1 virus produced high levels of antibodies that were broadly cross-reactive against a variety of flu strains.
Development of a "universal" influenza vaccine that protects against multiple viral subtypes has long been the goal of immunologists working to overcome the requirement for a new vaccine during each flu season and the need for a rapid response to potentially dangerous mutations.
The new discovery brings the researchers closer to being able to design a pan-influenza vaccine that reliably induces broadly cross-reactive antibodies at sufficiently high levels to protect against different influenza subtypes.
The findings are published this week in the Proceedings of the National Academy of Sciences (PNAS). The researchers are from Emory University, the University of Chicago, and the National Institute of Allergy and Infectious Diseases (NIAID) of the National Institutes of Health (NIH).
The researchers analyzed B cell (antibody) responses in 24 healthy adults immunized with the inactivated pandemic 2009 H1N1 vaccine. Vaccination caused a rapid increase in production of monoclonal antibodies that were capable of neutralizing multiple flu strains. Three of the antibody types also were able to stick to the "stalk" region of the virus that does not change as much as other regions and thus could provide a basis for a vaccine with broader and more reliable protection.
Antibodies that are broadly reactive against multiple influenza strains are rarely seen in people after infection or vaccination with seasonal flu, the authors note. In the 24 vaccinated individuals in the current study, the majority of flu antibodies neutralized more than one influenza strain and also seemed to be the result of B-cell memory resulting from previous exposure to other flu strains.
"Since discovering last year that people infected with the H1N1 2009 virus produced antibodies against multiple flu strains, our goal has been to test this ability in vaccinated individuals," says senior author Rafi Ahmed, PhD, director of the Emory Vaccine Center and a Georgia Research Alliance Eminent Scholar.
"Our new finding is a key step in the development of a vaccine that can produce high levels of antibodies that protect against multiple flu strains, including challenging mutations that have the potential for widespread illness and death."
The next step for the research team will be to improve on their results and develop a vaccine that produces high levels of antibodies and can reliably protect against multiple flu subtypes.
First authors of the paper are Gui-Mei Li, PhD, and Christopher Chiu, PhD, postdocs at the Emory Vaccine Center and Emory University School of Medicine. Senior authors are Ahmed and Patrick C. Wilson, PhD, from The Knapp Center for Lupus and Immunology Research at the University of Chicago.
Other authors include Jens Wrammert, Megan McCausland, Srilatha Edupuganti, Mark Mulligan, and Aneesh K. Mehta from Emory; Sarah F. Andrews, Nai-Ying Zheng, Jane Hwei-Lee, Min Huang, Xinyan Qu from the University of Chicago; and Duman R. Das and Jonathan W. Yewdell from the NIAID.
The research was funded in part by NIH/NIAID grant U19-A1057266 with American Recovery and Reinvestment Act Supplement U19-A1057266-06S2; NIH/NIAID awards HHSN266200700006C Center of Excellence for Influenza Research and Surveillance; HHSN2662005000026C; and 5U19A1062629-05; and the Intramural Research Program of the NIAID.
Emory University and the University of Chicago have an industry licensing agreement on the influenza-virus-specific human monoclonal antibodies under which Rafi Ahmed, Jens Wrammert and Patrick C. Wilson may benefit
---