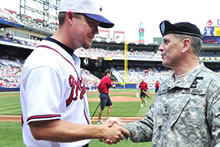 This Memorial Day, Emory University and the Atlanta Braves will celebrate the first year of BraveHeart: Welcome Back Veterans Southeast Initiative at Turner Field with a visit from retired Gen. Peter W. Chiarelli, former Vice Chief of Staff of the Army, and current CEO of One Mind for Research. Chiarelli will throw out the ceremonial first pitch after the ball has been delivered to the mound by the Army parachute team, Silver Wings.  
Barbara Rothbaum, PhD, director of Emory University School of Medicine's Trauma and Anxiety Recovery Program and PTSD researcher, leads the BraveHeart Initiative, which was created to serve the veterans and their families who reside in the Southeast region of the United States.  
"We are grateful for the support of Gen. Chiarelli, who has been an extraordinary advocate in raising awareness, reducing stigma and working to resolve the psychological issues many veterans face when they return from combat," says Rothbaum.  
"Additionally, we appreciate the continued assistance of the Atlanta Braves," she says. "A large portion of our effort involves getting information about the website out to the public. The Braves organization has been very valuable in helping us to raise awareness about BraveHeartVeterans.org."
The BraveHeart Initiative was created in 2011 thanks to a $1 million grant from the Welcome Back Veterans Initiative - a partnership between the Robert R. McCormick Foundation and Major League Baseball. It is a screening, assessment and service program designed to provide veterans of the wars in Iraq and Afghanistan education about posttraumatic stress disorder (PTSD) and guidance for access to mental health and counseling services.  
A new addition to the website this year is SimCoach William Ford, a virtual human who greets users when they click on his image. William (Bill) provides educational information about PTSD and gently guides the user through a screening process by facilitating an interactive question and answer session. Bill was created by the Institute for Creative Techologies at the University of Southern California.  
Also, in order to efficiently serve Georgia veterans who need help, the number of providers available in the region will be expanded this summer. Through the generosity of participants in the Georgia Psychological Association's pro-bono program, BraveHeart will be able to connect veterans with a number of experts throughout the southeast who are willing to provide care at very low cost, or for free. In addition, a telemedicine program introduced through the Georgia Partnership for Telehealth, is now accessible to veterans who are unable to get to a clinician for treatment because of work, travel or other constraints.  
More information about BraveHeart is at http://www.BraveHeartVeterans.org. To reach the BraveHeart Clinical Care Coordinator, call 404-727-8964 or email care@braveheartveterans.org.
Memorial Day Game:
Atlanta Braves vs. St Louis Cardinals
Turner Field
Atlanta, GA
Mon, May 28, 2012 01:10 PM
Tickets
Gen. Peter W. Chiarelli will throw out the ceremonial first pitch after the ball has been delivered to the mound by the Army parachute team,
Silver Wings
. Wounded warrior Dan Berschinski will present the line-up.
---