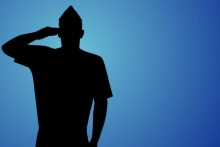 Emory University's Nell Hodgson Woodruff School of Nursing is collaborating with the Atlanta VA Medical Center to launch a VA Quality Scholars Advanced Fellowship program site in Atlanta.  
Beginning in July, the program will train nurses and physicians to develop innovative approaches to enhancing health care services for veterans through the application of knowledge and methods of healthcare improvement and the performance of research that develops knowledge for the ongoing improvement of the quality and value of health systems.  
Two physicians and one nurse will be selected for the Atlanta VA Quality Scholars Advanced Fellowship, which is a two-year intensive research training program. In addition to a paid fellowship, the program will allow fellows to train with top researchers at Emory University, the Atlanta VA Medical Center, Wellstar Health System, and Georgia Tech.

"Georgia is home to more than 770,000 veterans and nothing is more important than ensuring they have access to high-quality health care that is driven by research that focuses upon the improvement of health systems," says Bethany Robertson, the program's senior nurse scholar in Atlanta. "The VA Quality Scholar Fellows will conduct cutting-edge research to improve health care for veterans in our community."  
The program will be managed by Emory nursing professors Bethany Robertson and Carolyn Clevenger and VA physician and Emory School of Medicine faculty member Anne Tomolo.  
"We are very pleased to partner with the Atlanta VA Medical Center to offer this outstanding fellowship," says Linda McCauley, dean of Emory's School of Nursing. "This is truly a rare opportunity for up-and-coming scholars to train in a Magnet-designated hospital system while improving care for our nation's heroes."  
Atlanta and Los Angeles are the newest sites for the VA Quality Scholars Fellowship program, which has been operating in six other cities—including Cleveland, San Francisco, and Birmingham—since 1999. The program currently has 25 fellows nationwide.
Fellowship applications are being accepted for the first cohort of fellows in Atlanta, who will begin the program in July. The deadline to apply is May 1. Please contact Anne Tomolo or Bethany Robertson for additional information and eligibility requirements.
---