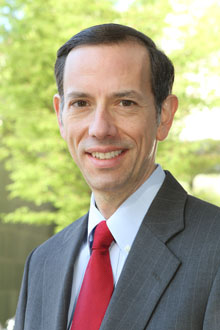 Robert A. Schapiro, a leading constitutional law scholar and former clerk to U.S. Supreme Court Justice John Paul Stevens, has been appointed dean and Asa Griggs Candler Professor of Emory University School of Law, effective May 3, 2012. 
A member of the Emory Law faculty since 1995, Schapiro has served as interim dean during the past academic year and previously served as associate vice provost for academic affairs of Emory University and co-director of Emory Law's Center on Federalism and Intersystemic Governance. An expert on federalism and state constitutional law, Schapiro teaches courses in constitutional law, federal courts, civil procedure, and legislation and regulation. He is the recipient of numerous teaching and scholarly awards, including the Emory Williams Teaching Award and Ben F. Johnson Faculty Excellence Award.
"Robert brings to the role superb academic and legal credentials as well as strong administrative experience," says Emory Provost Earl Lewis. "He has been sought after by law schools across the country for both academic and leadership roles. He is recognized for his innovative thinking and his ability to integrate cutting-edge academic research with teaching so that students develop practical skills in the law. We are happy he will continue to make Emory his home."
"I have never been as excited about the future of Emory Law School as I am right now with the potential for years of distinguished leadership from Robert Schapiro," says Ben F. Johnson III, chair of Emory's Board of Trustees. "Emory has never had a law school dean who is as credentialed in so many different ways, whether it's his academic performance, clerking at the U.S. Supreme Court, or the quality of his scholarship. Robert is superbly qualified to lead Emory Law School to the full potential that it has had and will continue to have. I'm excited that he's got plenty of running room and time to do it."
"The ability of the law to effect transformation in people's lives, making the world a more just place, is what makes this work so important and so exciting," says Schapiro. "Lawyers and law schools are central to promoting the rule of law and human rights around the world. In the years ahead, their role will only grow, as we engage some of the most complex social, political and economic challenges we have ever faced." 
Emory Law priorities
Key priorities for Schapiro's administration will include: enhancing the student experience and preparing students for successful careers in a global legal environment; drawing on the invaluable experience and perspectives of the alumni community; increasing Emory Law's international presence and impact; and further developing its strengths in health law and policy, technology and innovation, discrimination and vulnerability, and religion and society.
During his year as interim dean, Schapiro has recruited Rafael Pardo from the University of Washington and Sue Payne from Northwestern University to help build Emory Law's signature programs in bankruptcy law and transactional law. With his appointment as dean, Emory Law also is announcing the successful recruitment of Mary Dudziak, currently the Guirado Professor at the University of Southern California.
Over the last year, Schapiro led an alumni retreat focusing on the dramatic transformations of the legal profession and spearheaded major initiatives, including the development and launch of Emory Law's Center for Professional Development and Career Strategy, a unique program to help law students systematically explore and define their career paths and prepare for successful employment; the creation of a Juris Master's degree program for working professionals seeking targeted legal training; and the expansion of international partnerships.
These initiatives build on Emory's core academic strengths and its distinctive programs integrating theory and practice, including the Kessler-Eidson Program for Trial Techniques; the nationally recognized Center for Transactional Law and Practice; Emory Law's path-breaking technology partnership with Georgia Tech; and extensive field placement and clinical opportunities.
"My experience at Emory Law School was extraordinary," says John K. Halvey, class of 1986, group executive vice president and general counsel of NYSE Euronext. "Emory Law now offers several innovative theory-practice programs that are making the student experience even more comprehensive."
"Emory Law offers an intimate community within a global city, allowing us to engage in an interdisciplinary and customized approach to legal education, which unites signature areas of scholarly strength with a commitment to the integration of theory and practice," Schapiro says.
Background
Schapiro received his bachelor's degree, summa cum laude, from Yale College in 1984 and a master's degree in history from Stanford University in 1986. He earned his J.D. in 1990 from Yale Law School, where he was editor-in-chief of the Yale Law Journal. After law school, he clerked for Judge Pierre N. Leval, then of the U.S. District Court for the Southern District of New York, and for Justice John Paul Stevens of the U.S. Supreme Court, before joining Sidley & Austin in Washington, D.C., where he practiced general and appellate litigation.
---