American Academy elects Emory's Schuchard
April 17, 2012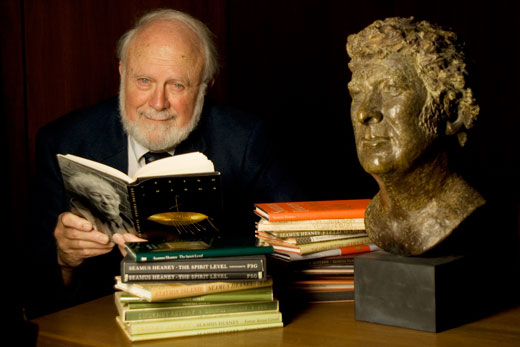 Ronald Schuchard, Goodrich C. White Professor of English at Emory University. Emory Photo/Video.
Ronald Schuchard, Goodrich C. White Professor of English at Emory University, has been named a 2012 Fellow of the American Academy of Arts and Sciences, one of the nation's oldest and most prestigious honorary societies and a center for independent policy research.
"Ronald Schuchard has long been recognized as a leading scholar of T.S. Eliot and W.B. Yeats," says Emory Provost Earl Lewis. "Beyond that, he has been a champion of the importance of the preservation of our literary heritage and instrumental in Emory's worldwide reputation as a repository for some of greatest literature of the 20th century."
A 42-year veteran professor at Emory, Schuchard is a faculty advisor to Emory's Manuscript, Archives and Rare Book Library (MARBL), and has devoted much time to developing its outstanding archive of 20th century Irish and English manuscript collections.  
Schuchard founded and for 20 years directed the Richard Ellmann Lectures in Modern Literature, now among the most prominent in North America. Inaugurated by Seamus Heaney in 1988, the lectures were given most recently by Margaret Atwood in 2010. The lectures are named for the late Ellmann, a prominent literary critic and Emory's first Robert W. Woodruff Professor, who also was a fellow of the Academy, receiving that honor in 1969, the year Schuchard joined the faculty.  
Award-winning author and editor
Schuchard's latest book, "The Last Minstrels: Yeats and the Revival of the Bardic Arts," published by Oxford University Press in 2008, won the Robert Rhodes Book Prize of the American Council for Irish Studies and was co-winner of the book prize of the Modernist Studies Association. His "Eliot's Dark Angel" (Oxford University Press, 1999) won the Robert Penn Warren-Cleanth Brooks Award for Outstanding Literary Criticism and the annual SAMLA Studies Award for the best book published by a member of the South Atlantic Modern Language Association.  
He is the editor of T.S. Eliot's Clark and Turnbull Lectures, "The Varieties of Metaphysical Poetry" (Faber & Faber, 1993; Harcourt Brace, 1994; Harvest, 1996), and co-editor with John Kelly of "The Collected Letters of W.B. Yeats, Volume 3" (Oxford University Press, 1994); and Volume 4 (2005), which won the Modern Language Association's Morton N. Cohen Award for a Distinguished Volume of Letters. "Volume 5" in the same series is forthcoming.  
He is founder and director of the T. S. Eliot International Summer School at the University of London and currently General Editor of "The Complete Prose of T. S. Eliot," to be published in eight volumes online and in print by the Johns Hopkins University Press and Faber & Faber.  
Schuchard joins 220 new Fellows
The 220 new Fellows and Foreign Honorary Members announced today join one of the world's leading centers for independent policy research. Members contribute to Academy publications and studies of science and technology policy, energy and global security, social policy and American institutions, the humanities and culture, and education.  
Since its founding in 1780, the Academy has elected leading "thinkers and doers" from each generation, including George Washington and Benjamin Franklin in the 18th century, Daniel Webster and Ralph Waldo Emerson in the 19th, and Albert Einstein and Winston Churchill in the 20th. The current membership includes more than 250 Nobel laureates and more than 60 Pulitzer Prize winners.
The new class will be inducted at a ceremony on Oct. 6 at the Academy's headquarters in Cambridge, Mass.