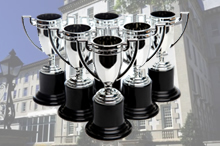 Emory University Hospital has earned the Outstanding Achievement Award by the Commission on Cancer of the American College of Surgeons in recognition of its high quality care to cancer patients.  
"On behalf of the many fine physicians, nurses and staff members at Emory University Hospital, this is an outstanding achievement that I am very happy to celebrate,"said Robert Bachman, CEO for Emory University Hospital. "Our patients come to Emory and the Winship Cancer Institute of Emory University each day from distances near and far, expecting the best care and outcomes for themselves and their loved ones. This award certainly demonstrates that we are committed and dedicated across the board to providing the very best service– and state-of-the-art care- available today. I am honored to receive this recognition and thank each member of our cancer program for earning this distinction."    
Rein Saral, MD, associate director for community affairs and outreach for Winship Cancer Institute of Emory University, said he is pleased because the award recognizes the "extraordinary excellence of the overall collaboration between Emory University Hospital and Winship Cancer Institute." 
Emory University Hospital is the only hospital in Atlanta and one of just 106 nationally to be granted the award this year. Just 22 percent, of the 489 programs surveyed during 2011 received the award. The Medical Center of Central Georgia in Macon also was cited.  
The award is granted to facilities that demonstrate a commendation level of compliance with seven standards that represent six areas of cancer program activity: cancer committee leadership, cancer data management, clinical management, research, community outreach, and quality improvement. The level of compliance with the seven standards is determined during an onsite evaluation by a physician surveyor. In addition, facilities must receive a compliance rating for the remaining 29 cancer program standards.  
Established in 2004, the CoC Outstanding Achievement Award (OAA) recognizes cancer programs that strive for excellence in providing quality care to cancer patients. A majority of recipients are community-based facilities, teaching hospitals, NCI-designated Cancer Centers, and VA hospitals.
---