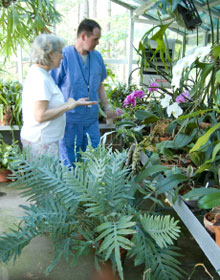 The annual plant sale at the Wesley Woods Center on Friday, April 20, at 3 p.m., will offer several unusual varieties.
Along with tomatoes and herbs, Horticultural Therapist Kirk Hines lists unusual begonias, cacti, sedums, unusual ficus trees, a few larger tropicals, orchids, butterfly bush and many more.
This year, Hines says, larger 8-inch pot herbs will be available and there will be a few "hard-to-find" pre-bonsai willow leaf ficus.
The sale will be held outside of the horticultural therapy greenhouse at the Emory Healthcare facility on Clifton Road. In the event of inclement weather, set-up will be in the hospital cafeteria or nearby hallway.   
Hines recommends arriving on time, since "plants tend to sell out."
All plants are grown by the horticultural therapy program as daily therapy for the patients. All vegetables and herbs are produced organically. 
Proceeds benefit the horticultural therapy program. "In fact, I'm waiting for the plant sale funds so that I can purchase a garden hose and some pine straw," Hines says.
For more information, contact Hines at 404-728-4586.
---