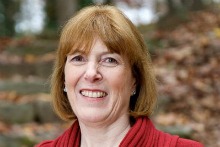 When Cecile Bazaz started experiencing memory loss and issues with completing tasks that had once been easy for her, she and her family quickly assigned blame to what had been a tough year.  
She'd just lost her beloved father, her only daughter had graduated high school and had left for college and as a woman in her late 40s, she was going through menopause. But, when she started having challenges in her job as a banking executive – a place where she had long flourished – she knew there was more at play.  
"All of the sudden, Cecile was needing to go into the office on the weekends to get her work done," says Alister Bazaz, Cecile's husband of 29 years. "When she'd get home and I'd ask her if she'd accomplished what she'd needed to, she couldn't remember why she'd gone into the office in the first place. It was so unlike her. She'd always been in tip top health." 
After a visit with a neuropsychologist and a battery of tests, Cecile was diagnosed with early-onset Alzheimer's disease at the Emory Alzheimer's Disease Research Center, where she is now both a patient and enrolled in research studying an antibody vaccine.  
Coming to Emory for her care was not a tough decision for Cecile, whose Emory roots run deep. As a child, she often visited her father, Jack Kostyo, PhD, who served for eleven years as professor and chair of the Department of Physiology in the Emory University School of Medicine. As a teenager, Cecile volunteered as a candy striper at Wesley Woods Hospital. Then, she received her bachelor's in business administration with a double major in accounting and finance from Emory University, a degree that helped her climb the ranks of her career at a large bank.  
"Here is a strong, smart, vibrant woman in her late 40s with a beautiful daughter, wonderful career and a wonderful, successful husband - all of a sudden facing something none of us could comprehend," says Barbara Biehner, a long time friend and Cecile's former college roommate at Emory. "The reality of such a disease to a woman and a family at such an early age is devastating. Now the husband becomes the caregiver and the daughter becomes a responsible parent.  
Still fairly rare, early-onset Alzheimer's affects approximately 500,000 people and accounts for 10 percent of Alzheimer's cases.  
"Early-onset Alzheimer's is devastating because it affects people who are often in the prime of their lives," says Allan Levey, MD, PhD, director of Emory's Alzheimer's Disease Research Center and chair of the department of neurology in the Emory University School of Medicine. "People who are diagnosed with Alzheimer's in their 50s often still have children at home and careers that are flourishing. The decisions they and their families are faced with are particularly heartbreaking." 
Cecile left her job in banking in early 2009, facing challenges with language, memory, visual spatial skills and executive function, the set of mental processes that guide organization, planning and strategizing. Working as a team, the Bazaz family has been able to keep Cecile socially active and engaged through programs such as Museum Moments, a collaboration between the Emory Alzheimer's Disease Research Center and the Michael C. Carlos Museum designed to spark the imagination, invite conversation and form connections through viewing art together.  
"We know this time with Cecile is precious," says Alister. "We're determined to spend it doing the things she loves. The fact that Emory takes care of the patients and families not only in the clinical sense, but also in the social and emotional capacity has been a saving grace for us."   
---